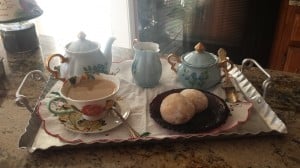 Tea is a friendly drink. It doesn't jazz you like coffee. I can have it in the afternoon, for instance, and still sleep that night. 🙂 And if — like me — you've collected/ inherited/ been given tea wares for many years, it becomes a kind of time travel, as well. And today it was its own early holiday present from people who love me.
Let's start with this tea tray. It's my mother-in-law's aluminum tray, one of my favourites. I feel very grateful to have it — she served many a treat on it over the years. The cloth on it is my mother's, one of her many linens I inherited. The ruby glass plate is Mother's, as well. She bought them piece by piece — we didn't have much  money then — from the Avon lady. (They were always called 'the Avon lady,' when I was small.)
The small tea set my Grandmother Britton painted herself. With her own hands! And then fired it in the small kiln that took up way too much room in the kitchen (and made it hot as hell in the summer). It's covered with blue forget-me-nots, as much of her early work was.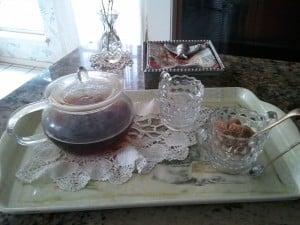 I have two other tea sets painted by Grandmother, both given to me to make up for my father refusing to let me have my grandmother's china set. Even though Grandmother specifically asked him. "Mama," he said, "I bought that set for you to paint. It's mine." Grandmother was horrified (& pretty mad, as I recall), and gave me this small tea set. And when I married, Aunt Ina gave me another, and my mother gave me hers. It was a good trade. 🙂
The cup is one my nephew (by marriage, actually, but I love him as dearly as my blood nevvies) gave me last Christmas. It has a bee on it! The tea was brought from India by the mother of a former colleague — now a dear friend. Probably the only two things on the tray I bought are the cookies and the spoon. I could have put my own baby spoon (in my mother's Rosepoint pattern, now my pattern too), that Aunt Leona had engraved w/ my name. But every day needs a different spoon, and today wasn't a Rosepoint day. It's more an 18th Century day: simple, traditional, plain & elegant.
You can see that tea today — totally by happenstance! — carries on its fragrance the stuff of memories. Spending long weekends — even weeks — at Grandmother's house in Turley. Playing dominoes & Scrabble (she always cheated). Eating her applesauce cake.
Mom's tra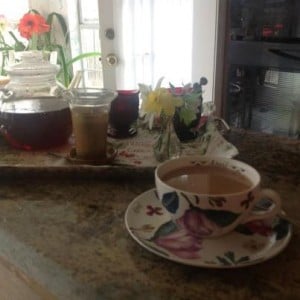 y sometimes held savouries — cheese-stuffed celery for the holidays — and other times sweets — Dad's amazing fruitcake (I happen to LOVE good fruitcake). While the ruby glass reminds me of my mother, and so many holidays when she used her large set of plates, goblets, serving pieces, acquired over several years. The tea, the cup… New memories and dear connections continue to be forged. Family expands, and friends grow only dearer.
I suppose other people drink from cracked mugs and don't care. Not me. I make a tea tray even if I'm still in my pjs. I want to start my morning with order & beauty. Even when I worked, and drank huge mugs of tea on the long drive to work, I began with a tray. Laid with a cloth. Fresh boiling water, and loose tea. Poured into a strainer, set in a big glass mug, which I warmed with boiling water. Then warm the car mug, and pour the sweetened tea & milk into it.
So in addition to the oasis of calm a tea tray offers, it establishes a point of stop. breathe. relax. And that's such a bonus in today's busy lives. When was the last time you sat down and thought about all the people who love you? And ate cookies & drank hot tea while feeling loved!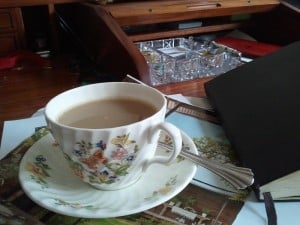 You don't need your beloved mother-in-law's tray, or your mother's embroidered tea cloth from Hong Kong. Or even wonderful tea. You can place a pretty paper napkin beside a cheerful mug (maybe with a bee on it!), and steep a teabag in boiling water. Honey from a teddy bear squeeze bottle is just as nice, in its own way, as Demerara sugar cubes and a silver scoop given you so long ago you forgot whose present it was.
Try it. It's probably just the moment of mindful self-love you need today.