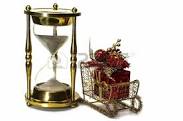 There's an inevitable fall-off after Christmas. All the fierce anticipation — even for grown-ups! — of presents (given or received), the worry about dinner (especially for the cooks!), and just the fatigue resulting from late nights baking, wrapping, and picking up family from the airport.
And that's for a relatively perfect Christmas holiday. Just imagine if you have no real home, no money for the have-to-have toy, or maybe have lost someone you love. What do you do after Christmas? I can't imagine — our first-world, happy Christmas blues are all I want to ever deal with.
In our family, we solved the post-Christmas doldrums accidentally. Trying to accommodate new family members, their families, and various work schedules, we have our huge family celebration late — this year on December 28th. We call it Aftermas. 🙂
Everyone brings things — we host at our house (it's the biggest, and closer than my niece's, the next largest). Vegetarians introduce us to great non-meat dishes that are more than simple sides. Meat eaters scarf the spiral ham and brisket that have become tradition. And I work hard at devouring ALL the many salads & sides; we haven't even gotten to dessert!

It takes forever to feed us all — there will be about 20 or so this year, including holiday orphans and partners and rug rats. And in my family, when you unwrap gifts, you do it one by one. Every year the next generation rebels and stages a mutiny. So far, the four sisters (my three sisters & I) have won the field, and we still unwrap for HOURS. It's glorious!
There's so much paper that we all feel a bit guilty. Even though as I've said, I save the ribbon and ALL the bags the kids haven't squashed. There's a LOT of loud laughter, teasing, bad puns, and talking with mouths very full.
But more important, there's time. Santa has come & gone, and there's been at least one or two days to calm down. So that the food is welcome again, and the grownups aren't worn to a frazzle from wrapping. The kids aren't up to their necks in sugar, and the whole celebration is…well, more celebratory.Even when my beloved & I each commit — w/out consulting the other — to keeping my wonderful grandson the WHOLE DAY I should be shopping & cooking & fixing.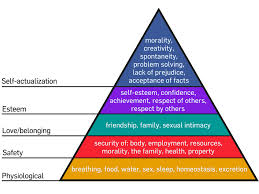 The more I think about it, the more I wonder if time shouldn't be on Maslow's hierarchy of needs. Right up there with love & belonging. Because time — the time to enjoy love, the time to appreciate your family, your tribe — is critical. Without it? I don't know if you really CAN have the others.
When my husband & I were raising young children the big buzz phrase was 'quality time.' What we decided, as we talked about work choices and moves and our priorities, was that without quantities of time, quality time didn't really happen in the same way.
And this holiday, as I cooked a big dinner for only the five of us (and a baby 🙂 ), I was so grateful to have time to rest & relax. To be able to sleep in Christmas morning, and make coffee for the later risers. To go present by present, oohing & aahing at each one. Knowing we didn't have to rush to make room for another 'party.'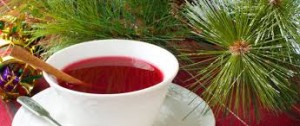 As you wind down from your holiday — hectic or not — make time. You can, you know. You can create it out of almost nothing. After work, on the way home, listen to a holiday song you didn't get to before Christmas or Solstice. Make a list of what all you received — if you start it this year and keep it up, it makes a lovely record of past holiday times. If you were lucky enough to receive a bottle of wine, or a tin of tea, maybe some hot cocoa mix, fix a glass or mug and just sit. Preferably by a fire… 🙂
Time will drift like perfect snowflakes into your lap. I promise.