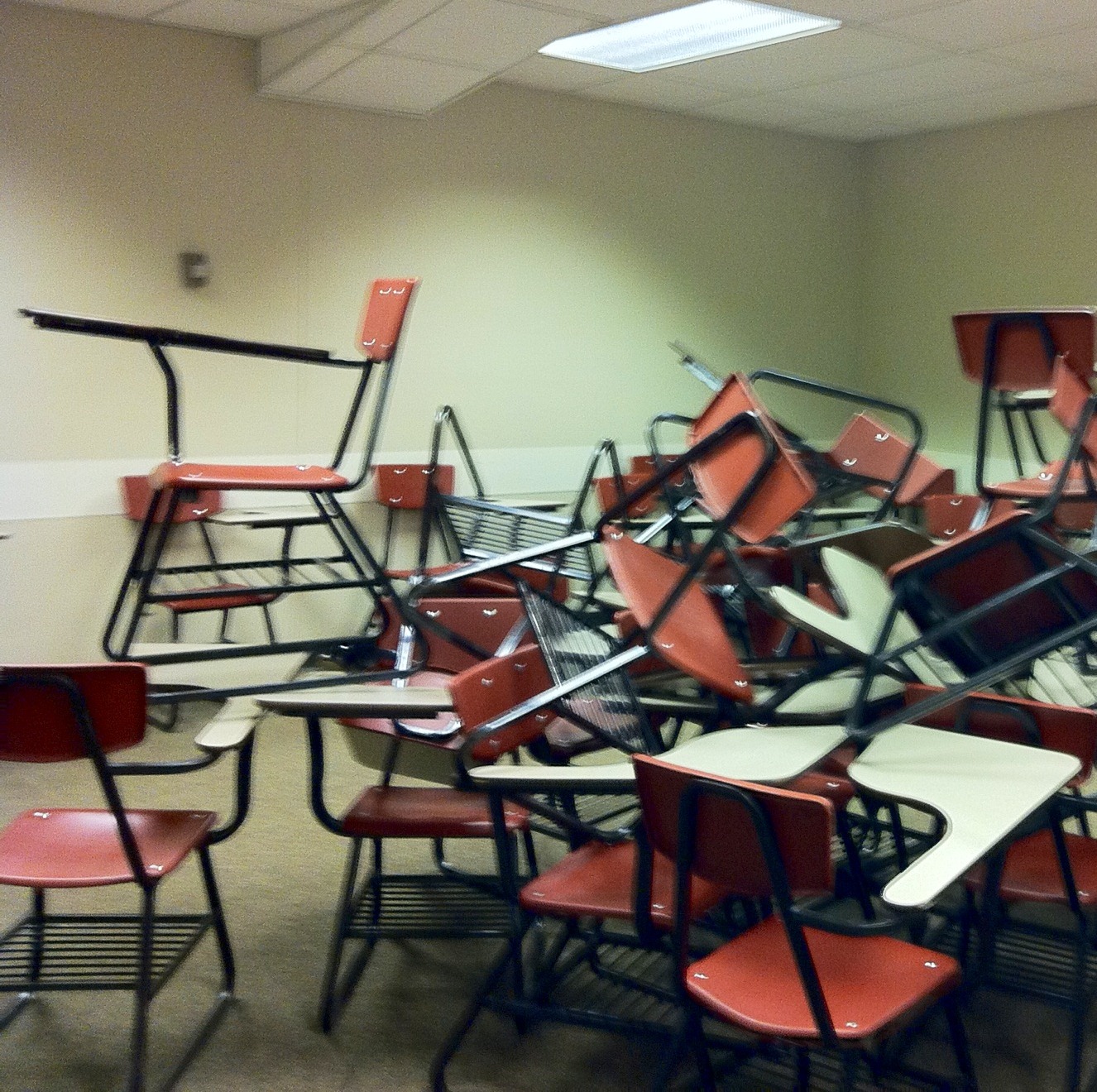 This is a picture of the last day of the last undergrad class I taught at OSU. You won't get the joke, so I'll tell you. Bear with me: 🙂
Every day there was a note in our classroom saying, Please put the chairs back in rows. And every day my students left them in the circle we sit in whenever I teach. N.B.: I'm a HUGE believer in circles. They disrupt the wrong kind of hierarchy, putting everyone in eye reach of everyone else. And it's very hard to text or just space out in a circle. You're visible.
After I explained to my students the first day that we will ALWAYS sit in circles, they decided everyone else should, as well. Since I also teach that you are in control of your education, and told the students that putting the room together was their 'job' each day (as is pulling up all window shades if we're lucky enough to get windows), they decided it was NOT their job to 'enable' rows.
The last day, as a statement, they decided to do this. And here's where folks don't always agree with me: I thought it was enchanting. They took total control of this room, and dominated it! This was the kind of protest that hurts no one (well, I did feel a bit bad about janitorial, but I also know they probably got HUGE mileage in the lunch room from the story).
This is all by way of saying that every class has its own stories, and this is only one from this particular semester. In that same class was a young man I won't name. He was having a very difficult time — recently divorced, joint custody, an 'away' job, and try

ing to carry FT classes. We spoke often about how hard it is to be a returning student (I was one as well). How hard it is to single-parent (I did that, too). And just how school may not be your main priority sometimes. Nor should it be.
It's just school is the mantra I teach all my classes. Not your life. Not your family. Not who and what you are. Just school.
Today that very nice young man wrote me a note via FB. Thanking me for mentoring him through that semester, a rocky one, he remembers. And the funny thing? I did nothing unusual. Just listened to his life, and tried to be kind. Just kind.
I was touched that my former student took the time to write. It brightened my day considerably. But it also saddens me, a bit, to think that lovingkindness is so unusual in so-called 'higher ed' these days that he felt fortunate. What does this say about what we value? Not, I think, what it should.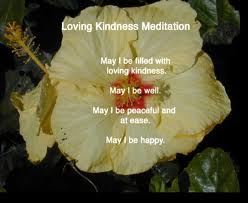 When did 'rigour' — a term often found in education these days — come to exclude plain ol' human kindness? When did we decide that testing and deadlines were more important than the student people who are in our classes? What will they learn from us if not how to be good people? What content area is more important than decency? Than what Buddhists (and many others) call lovingkindness?
This vexes me no end, as my great-aunt Bonnie would say. She never went past 8th grade. But she knew far more — about life, about gardens, about children, about loving kindness — than anyone I know with a doctorate. She knew enough to realise that w/out kindness, education is a hollow promise, at best. I would rather have the note from my former student, and this picture of his classmates' exuberant disobedience, than a letter from a dean, or an academic honcho. But then, I also found the pile of chairs enchanting ~