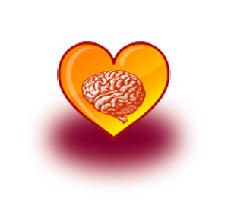 I usually say the aim of life is to be happy. Our existence is based on hope. Our life is rooted in the opportunity to be happy, not necessarily wealthy, but happy within our own minds. If we only indulge in sensory pleasure, we'll be little different from animals. In fact, we have this marvellous brain and intelligence; we must learn to use it. ~ His Holiness the Dalai Lama
I love this saying. Maybe because my intellectual life is important to me. Maybe because I've always thought that 'mindfulness' means you have to use your mind as well as your heart. Maybe… well, who knows? But the thought is the reason for the heart & mind illustration.
The other night one of my writing workshop students told me that she was afraid her writing bored people. "I write about ordinary things," she said. "Who cares?"
The Buddhist in me succumbed to righteous indignation on her behalf. And on the behalf of all of us. "Those are the hardest things in the world to right about," I almost hollered. "And I can't think of anything more important!"
But here's the deal: writing about — thinking about, appreciating — the ordinary (ordinary mind, as Zen calls it) does bore many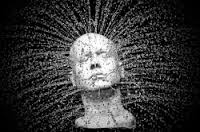 folks. But it's critical. And surely it's what our brains can do for our hearts…? Or maybe it's what our hearts do for our brains…?
To be happy within my mind, I have to let go all kinds of attachments. Some my own, some cultural. I have to let go youth, and the dream that I will ever be that kind of agile again. I have to let go of the belief that what I have learned is important on any major scale. Mostly, I have to let go of ego (attachment :)) on so many levels I can't even count that high!
I have to let go — most difficult of all — of the belief I need to change the deeply held beliefs of others. If — as happened recently —  my own deepest beliefs conflict with those held by a beloved family member, I have to sit within the heart of the pain. Think within the mind of the disconnect. And not feel threatened. And still know love.
Damn near the hardest task I've undertaken lately. And I don't know how I would even begin the task w/out the benefit of my marvelously unreliable brain. Because wouldn't the brain be part of that ordinary mind(set)? Thinking it through certainly has helped, I have to say.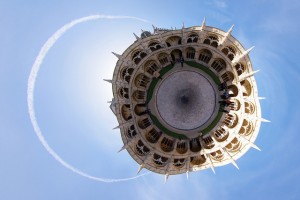 But when I can still my monkey mind (not the same as the marvelous mind the Dalai Lama is referencing, I suspect) and just be mindful — like eating the pistachios beside me on the desk, feeling the shells split open to release the green kernel…savouring the salty flavour — life is infinitely rich. When I can breathe calmly when people I love follow their own paths, I glimpse something larger. Those rare and lucid moments when I let go — unattach like a floating seed pod on the autumn light — I almost get it.
Whatever it is, it teaches me about being happy. About beginner's heart. In a way that the wild excesses of youth never did.