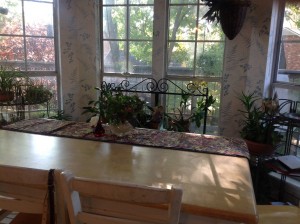 Sometimes, when it's grey and what my grandma would call 'dreary,' it's hard to get motivated. While I don't mind rain at all — especially when it's been a bit dry — I make sure that we buy the 'daylight' light bulbs. I HATE dreariness.
It didn't actually rain today. At least not yet. So I resorted to my usual remedy for dreary: I got outside. The deal is, it isn't cold. And it isn't wet. It just looks like it should be. So make a pot of beans, and take care of moving the outside plants in!
I know — you're wondering what the heck this has to do w/ beginner's heart. Well, it's actually a big part of how I try to implement beginner's heart day-to-day.
It does me absolutely zip good to mope around in the dreary grey light (or lack thereof). But since it's not hot (which it was only a week or so ago), and we're expecting temps overnight in the 30s, why not get out in the silver-grey light and make ready for fall? Which means bringing in the outside plants.
Beginner's heart is at least partially about happiness, as the Dalai Lama says. If your faith doesn't make you happy, and make happy the ones around you, what good is it? So for me, I try to figure out some way (w/out being a total Pollyanna) to make use of what happens. To make it work.
Today that meant repotting the orchids on the inside étagère — the one my sister half-killed is HUGE now! And one's blooming! Even the little one that I almost killed is putting out a new leaf. And of course the outside plants — succulents, mostly — had to be repotted after a summer out, and washed off, etc. Only the amaryllis still need new pots (let's hope they weather the night!).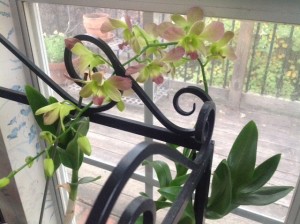 I wouldn't have noticed how big my one orchid had grown, or the new leaf on the little one, had I not repotted today. I wouldn't have had to mop, also, but somehow now that the pots are moved, and everything is orderly, it's all worth the effort. Even despite my acute dislike of mopping (right up there w/ moping 🙂 ).
This is what my beginner's heart learned a long time ago (one of the few lessons I seem to have — mostly — mastered): if you're blue, find something to do. By the time you finish, the day is far less dreary. It may even be abloom in orchids.