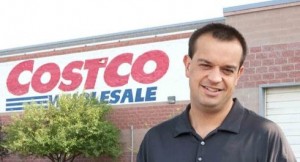 This is what corporations ought to be like. As an engaged Buddhist, I know that often how I spend my $$ is my best  'vote' for social justice. For corporate responsibility. And believe me: if we had a Costco in Tulsa, I'd be there often! 🙂
Here's the story of Matthew Horst, a handsome Costco employee who rose through the inside ranks to his dream job. A big thank you to his brother Chris for penning such a gracious letter, and to Brandon Weber for making it public. It's nice to hear good news!
Click here for a heart-warming story about Mathew Horst and Costco ~ about a corporation that 'took a chance' on Matthew, and the rewards we all reap.
az