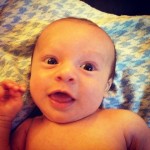 Today my grandson comes to stay for a visit! And we'll be together for … weeks! Oh — and my wonderful elder son, and his super-cool and wonderful wife, and Silas-the-wonder dog, and Rufus-the-cat-with-attitude. Because we are doing a caravan/move from Tulsa to Virginia, where N&E both have new jobs, beginning SOON.
In the meantime, I get to nuzzle Trinidad, and wonder why the rest of my life isn't as lovely as the moments spent anticipating the arrival of a little guy I barely know. What's up with that?
In a more serious exploration of that question, I've been thinking about attachment. About how to enjoy my amazingly happy life without growing attached. This is one of those times when I wish my spiritual teachers were alive, nearby, and willing to talk about something this minor. Well, minor in the grand scheme of life's machinations…
How does that work, the whole 'be in the now' and 'don't become attached'…? If you know, I wish you'd tell me. Or at least give me a hint…? Because I am VERY attached to much of my life.
Today, we bought a new birdbath. The little clamp that held the saucer off the deck rail broke in a big storm that — headlines assured me — pummeled the city. My luck held, and we only lost a few branches and a birdbath clamp.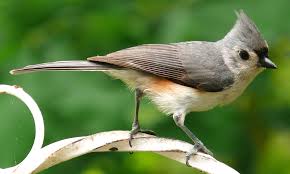 So today we replaced the birdbath. Which meant a trip to one of my favourite places, the local Wild Birds Unlimited. In addition to upgrading our birdbath (we're pretty serious about our backyard habitat!), we stocked up on suet blocks and seed cylinders. And sure 'nuff, when we had installed the saucer, and sat back down in the air-conditioned comfort of the breakfast room, overlooking the deck, a perky titmouse flew in. And then a sapsucker, and then a cardinal, and a spiral of sparrows, and a belligerent blue jay…
You get the picture.
This is my life, pretty much. Writing, birds, family. The farmer's market on weekends. Today I bought blackberries, to go with the local bakery's pound cake and vanilla bean ice cream…plus peaches for cobbler later.
So how do I let that pass, like the clouds in Big Sky Mind? Because it's all pretty wonderful. Even when I know it's ephemeral. Or maybe, because?