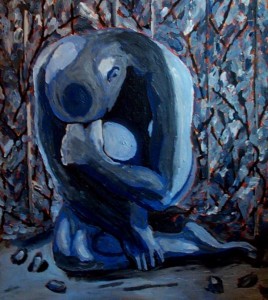 Sometimes I get incredibly blue. Blue as in indigo, deep and dark and find a hole to crawl into. Today has been one of those days…
It began — as far too many days do — with aches & pains. Middle age sooo sucks with the whole arthritis thing. Yuk. So I went outside, my medication of choice. Grabbed a pair of work gloves and snippers and decided to kill grapevine. Murder is sooo freeing.
Here's the problem: when I hit these slumps (maybe I should, more accurately, call them abysses), I need affirmation. A LOT. So when I had reduced much of the creeping crap smothering the Japanese maple and the dwarf crape myrtle to debris, I needed someone (enter: long-suffering best`beloved) to clap.
Oops. Forgot to script best-beloved. Who promptly asked me why I'd filled the yard w/ debris… I spent the next half-hour sniffling on the deck.
I'm not normally that touchy. Or sensitive. Like I said, I'm just blue today. And probably part of yesterday, as well. And no, I have no idea why. But what I do know is that it will pass. Big sky mind, grasshopper: the clouds come and the clouds go. Only the sky remains.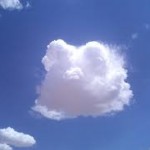 That's hard to remember. But when I'm sitting outside, watching a mockingbird decide which of the two water dishes to drink from, and three chickadees chase each other through the trees above the feeders, tears dry far more quickly, and my first-world life  regains its knowledge of blessings.
My advice for the day: get outside. Even in the heat. Remember what it was like to be 7 years old, and half the summer — with its endless sunny days, and brilliant sky, and happy boredom — still stretching ahead. I promise it will fix many things. Even turn the blues into that summer blue sky ~