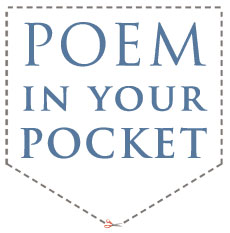 Today is Poem In Your Pocket Day. Just a big FYI. 🙂 It also was Poetry for Peace Day at a local community college. I was lucky enough to be a reader, along w/ several talented student poets and a couple of stellar colleagues. My friend Allen — a long-time social activist — organised it.
Each of us read a poem, most of us our own. But there were also poems to put in your pocket — after all, it is Poem In Your Pocket Day. And this was one I had forgotten, by a man I respect & admire deeply. His objectives sometimes are at odds with my own, but he has never wavered in his faith, or in his mission to save lives. All lives. Poetry was his language long before protest, and remains one of his most lasting legacies.
Here is Daniel Berrigan's 'Prayer for the Morning Headlines':
PRAYER FOR THE MORNING HEADLINES
MERCIFULLY GRANT PEACE IN OUR DAYS. THROUGH YOUR HELP MAY WE BE FREED FROM PRESENT DISTRESS. HAVE MERCY ON WOMEN AND CHILDREN, HOMELESS IN FOUL WEATHER, RANTING LIKE BEES AMONG GUTTED BARNS AND STILES. HAVE MERCY ON THOSE (LIKE US) CLINGING ONE TO ANOTHER UNDER FIRE. HAVE MERCY ON THE DEAD, BEFOULED, TRODDEN LIKE SNOW IN HEDGES AND THICKETS. HAVE MERCY, DEAD MAN, WHOSE GRANDIOSE GENTLE HOPE DIED ON THE WING, WHOSE BODY STOOD LIKE A TREE BETWEEN STRIKE AND FALL, STOOD LIKE A CRIPPLE ON HIS WOODEN CRUTCH. WE CRY: HALT! WE CRY: PASSWORD! DISHONORED HEART, REMEMBER AND REMIND, THE OPEN SESAME: FROM THERE TO HERE, FROM INNOCENCE TO US: HIROSHIMA DRESDEN GUERNICA SELMA SHARPEVILLE COVENTRY DACHAU VIETNAM AFGHANISTAN IRAQ. INTO OUR HISTORY, PASS! SEED HOPE. FLOWER PEACE.