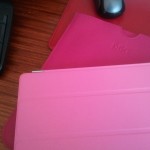 My mother would be so happy: TWO pink things came in the mail for me. Although orange & red were her favourite colours (w/ lashings of turquoise), she loved for me to wear pink.
When I was a little girl, she was always saying, "This would be so pretty on you." And "Why don't you try the pink?" I HATED pink. It was so… GIRLY. Nope, it was black, and navy, and the occasional cream or ivory as I grew.
But a couple of days ago, my favourite writing supply store had a sale, w/ NO SHIPPING! Online shoppers love those words. 🙂 My iPad could use a new smart cover and sleeve — they get a LOT of wear — so I clicked in to see what was available.
Surprise! PINK! And somehow it seemed perfect — bright, cheerful, and proud to be female. Like my mother.
Digression: for years after my mother died, I could only remember her as she was during the last, awful years: her own ghost, haunting some dim empty room that used to be full of her bright wit & quick mind. All I could see, when I thought of Mother, was the wasting shell whose face would — too rarely — light up when I sang to her.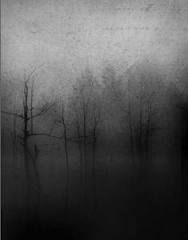 If you have lost someone to Alzheimer's (or worse, are losing them now…), you understand all too well what a wicked thief it is. Bit by bit Alzheimer's stole my mother's memory, until before I knew it, mine were gone as well.
I don't say this for sympathy, but because today I realised I'm remembering in other ways. Like the Buddha says, everything passes. It's all change. But the heart-breaking change that was my mother's piecemeal loss until finally she slipped completely into darkness also passed. And today, showing my pink iPad cover & sleeve to my husband, my 'old' mother returned.
This past week I've been going through boxes of old photos, letters, cards, & paper memories. Looking at photographs of baby showers & weddings & Christmases & births, I began to reframe my memories. My mother was beautiful. Far more beautiful than any of her four daughters. And she was whip-smart: top-secret classification during The War, as she called it. Majoring in French in her 60s. She deserves better (and so do I) than being remembered as the curled-into-herself shell of her last days.
In one picture, Mother is holding my elder son, who is wrapped in a blanket that matches her yellow hospital gown. My father stand next to her, dwarfing them both. Their faces are soft with the awe that babies bring. I wish I could tell her that Nathan is expecting his own first-born, another son. I wish I could share how happy I am with his wife, their marriage.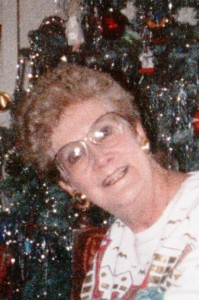 Christmas in another picture, and she is wearing one of her favourite holiday sweaters, vivid and vital. She is smiling there, too. Happy to be surrounded by all of us, too loud for her to distinguish who is saying what, but the best of chaos.
At a baby shower for my youngest sister,   Mother sits with her younger sister. In still another picture, she stands with her own three sisters, close together, as we stand now, her four daughters.
This is how I am reframing that most difficult year — my mother's last. As I culled the boxes — part of a long-overdue closet cleaning — I laid first one, then two, then three and four and finally a small stack of pictures of my mother on my desk. Along with my sister's wedding shower table, at Mother's house. A table laden with my mother's silver tea set — my own so like it — a basket of roses — like the ones on the deck — a tablecloth — one we bought her in Hong Kong. All this time I grieved, angry that Alzheimer's had stolen my mother? It's over — passed. And ultimately, like the Buddhists say about our inner Buddhist nature, the bright colours of the stone are washed clean, and shine again. One of them is pink. It is not my mother who has changed.