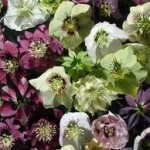 You don't have to be a non-Christian to be a Buddhist. Or a Unitarian. There are Christian Buddhists (some famous ones, in fact: I think of Thomas Merton). And (probably) Christian Buddhist Unitarians. But what can Buddhists get from Lent?
I love the idea of Lent. I love the Lenten Rose — hellebore. And the communal commitment to a better future. Like Ramadan, that other Abrahamic holiday of empathy, Lent requires us to go without. As so many in the world do, daily. It sharpens our empathy on the keen point of 'without.'
I still plan to do Ramadan. Last year, the year I was all prepped to go for it, I was ill for most of the month. This year, it begins in July, when I will be helping my son, daughter-in-law, and new grandson move cross-continent. So I may not do Ramadan completely this year, either.
But I am doing Lent. And in the spirit of the endeavour, I am trying to give up something that is meaningful to me. Don't laugh — I'm giving up FaceBook, where I connect w/ the many friends I have throughout the country. It's my window on a diverse and messy world, and I love the way it strings strands between each of us, like the web it inhabits.
I was committed to doing this even before I read, in a discussion of Lent, that you get Sundays off. Hence the 40 days period: it allows for 5 Sundays off, plus the week before Easter.
So Sundays — when Christians are supposed to celebrate the resurrection of Jesus – are forbidden to fasting or other forms of self-denial and abnegation. Which means that you are welcome to 'indulge' in your sacrifice (even encouraged), to feel happy about the resurrection.
How cool is that? As Buddhists would say, Moderation in all things – even, occasionally, moderation. Don't go nuts over being self-sacrificial; it's not healthy. Nor celebratory, certainly. 🙂
I'll still Twitter occasionally (so many cool things to share, like poetry!), and read FB on Sundays, but only in moderation. Because it's good to realise that nothing is 'given' us, only lent through our good luck. I have the great good fortune to have a college degree, a husband w/ a college degree, and the income two degreed professionals have managed to save. So we have computers, iPads, Internet. And FaceBook . 🙂 But I don't take that for granted — too many years spent in countries far poorer than middle class Oklahoma.
Tomorrow will dawn, and I'll check email after coffee or tea, as usual. But I won't turn then to FaceBook. Will it make the world a better place? Bring peace & plenty? Of course not. But it will help me  remember — daily — to count my many blessings.