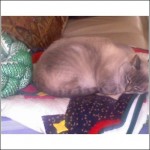 Why can't I focus on my meditation like I focus to play with my cat? Sitting in my chair, pulling a red bookmark ribbon sloooowly across my lap desk, I watch as she pounces. I pull the ribbon through her claws, then let it 'die.' She prods and I pull it into life.
From the sofa to the left, my dog watches the cat watch the ribbon. I watch both. And we do this for 10 minutes, as I make the ribbon snake across the desk, and the cat follows it.
Ten minutes is interminable when you're sitting. At least, it can be. It can go quickly, some days, like the quick pounce of the cat. But most days, it moves at snail speed. Far slower than the breaths I count.
Sitting in a chair, w/ all my attention centred on a cat's sharp claws and the scarlet ribbon between them, time is as mutable as warm wax. It draws out almost infinitely, even a simple moment.
The cat & I can play this game at length. Perhaps tomorrow, as I focus on my breath, I'll pretend it is a scarlet ribbon. And my skittish mind a cat, watching ~