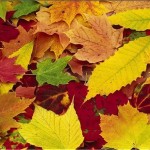 I did right at zilch today. I didn't cook, or get ready, or clean, or entertain. I didn't vacuum or change the sheets or do holiday cards. There were leftovers (cold pie for breakfast! whoohoo!), and all they required was making cappuccino in the a.m. and iced tea in the afternoon.
And the day was perfect.
There is grace in just being still. Sitting in a chair and listening to dogs snore softly. Sitting at a table overlooking autumn leaves, while birds flutter against the sky. Sifting through those leaves for scarlet Japanese maple leaves, just to hold them to the light and watch them catch fire.
These are the treasures of gentle days. Autumn seems the time of year when they're most likely to turn up: unexpected but always welcome. Despite having accomplished nothing, I feel as if something important has transpired. As if I've 'done' something of significance. When it's just been a quiet, peaceful day of brisk weather and warm sunlight.
I'd wish for more of the same but I know that's attachment… 🙂 So instead I'll be grateful for my single perfect day ~