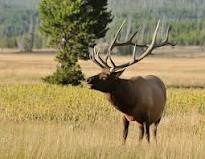 At the Mammoth Hotel in Yellowstone Park, elk have forgotten that they are wild. They graze on the tidy front lawn, sometimes causing traffic jams in the parking lot and the adjacent streets. Tourists have to be kept from walking up to these totally NOT domestic animals, and trying to pose with them. Bear in mind: the bull elk outside my window yesterday can get up to 800+ pounds, and 5 feet at the shoulder. BIG animals, in other words.
But Yellowstone is a magic place. Bear become not the fierce predator they can be, but Smokey's cousin. And elk become a kind of native cattle, in this place where tourists crowd the highway to spot a single wolf through a scope. Remember wolves? Demonised by the early Catholic Church as the devil incarnate? Still hunted by many ranchers to this day? In Yellowstone, wolves are entertainment.
In Yellowstone, ravens partner with wolves. Literally 'train' them — the wolves — from cubs. They will play games with the young cubs: holding a stick in beak, and laying it tantalisingly close to the cub. Then, when the cub comes to pick it up, the raven will snatch it from the cub's reach, and move away, luring the cub with the stick-toy. Some ravens will even let the younger cubs tackle them, a dangerous game for wings that break easily…
I love this wolf lore, learned on my current trip to Yellowstone.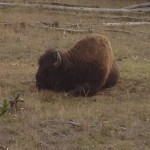 This partnership — ravens will even point out injured animals to wolves, flying back & forth between the injured animal & the pack, to show the way — is so unexpected to me. But one way wolf naturalists find packs feeding is to look for a large (35+) number of ravens. What used to be called 'a conspiracy of ravens.'
I spent 11 hours yesterday touring Yellowstone. In a bus, on my feet, clambering over fallen logs beside Slough Creek, walking the meadows and hiking sagebrush hills. There is an infinite variety of landscapes — from the thermally baked white & ochre earthscapes to rolling hills that spread across the entire horizon, to mountains cutting through the sky — it's all so hard to quantify w/ words. No wonder Thomas Moran spent so many days sketching Yellowstone, and his entire subsequent life painting it.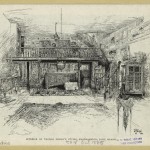 Today, coincidentally, I stumbled on a small Moran exhibit, at the Mammoth Visitor Centre. Field sketches, his chair & easel, a few paintings. Such a bonus — totally unexpected and great for a girl who grew up visiting his paintings at Tulsa's Gilcrease Museum. Yellowstone Canyon (spelled in the Spanish fashion, cañon), falls, streams and rivulets and landscapes. All familiar from his style, now familiar from this visit.
What is it about us — human beings — that responds so viscerally to the soar of mountains, the spill of water, the greens & greys & tawny golds of this landscape? This park? Since before Roosevelt…
And of course all the wildlife: a bald eagle eying us from a tall snag, ground squirrels flicking tails in the parking lot of Slough Creek, hawks against blue sky, and bison spread across the undulating hills. A red bison calf — so new s/he hasn't darkened to brown; the three bears foraging for rose hips & pine nuts; the elk walking down the street across from the hotel grill; a coyote watching a gopher hole like a cat w/ a mouse; a pocket gopher's head snaking in & out of its small hole, watching us watching him. Pronghorn in a meadow, a lone male herding his wandering females, echoing the colours of African gazelle cousins. Not to mention all the learning!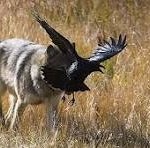 Our guide John citing stats, quoting data, naming packs and individual wolves; so familiar with the park. E.g., I didn't know that aspen grow (only?) in cleared areas. Or that 64% of the park's forests are lodgepole pine.. No wonder they're so concerned about the pine beetle… The new knowledge that marmot hibernate so early (already); that bear look for snow cover for their winter dens (more insulation); that wolves eat 20 or more pounds of meat at once. That ravens can eat enough to clean a carcass — that conspiracy of 35+ ravens, working in tandem with their wolves.
This kind of learning — outside, in the unfiltered Wyoming sunlight, saturated in the sharp fragrance of sagebrush — is the best possible school for awe. And humility. If ravens can play with rambunctious wolf cubs, and partner with their elders, surely I can navigate my own fears and weaknesses….