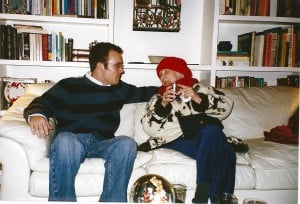 I woke up cranky today. My feet hurt, my joints ache, I should eat healthier. Middle age sucks. (And yes, I know I should consider the alternative…)
I tried my usual remedies: a cup of tea, a sit on the deck. Watching the young downy woodpecker attack our seed cylinder. I even did battle w/ the blackberry & sticker vines in the rose garden.
All I got were deep thorn scratches. Great.
So I did a spate of FB, and then remembered: today is my mother's birthday. It's also the birthday of my older son. I flashed back (so easy to do once you're a certain age!) and remembered my mother insisting I not 'ruin her birthday surprise' by telling her what her 'early' birthday present was the night before. Typical conversation w/ my mother:
Me: "I have an early bday present for you, Mother!" (My water had just broken.)
Mother: "Don't spoil the surprise! I don't want it yet."
I said again — "I have an early bday surprise for you, Mommy."
And she responded: "NO! I don't want it yet!"
At which point, a MONTH past-due, I blew up and said: "When a pregnant woman ONE MONTH past due calls her mother and said she has a surprise, YOU WANT IT, Mother!"
And then I remembered the long day — a full 24 hours+ —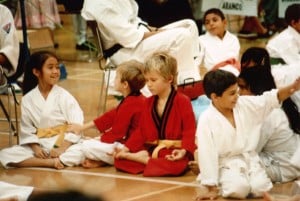 that brought my son into the world. How weeks later I would sit on the sofa and hold him, the exact length of my thigh, cradled on my lap. Today he's 6′ tall, married, and teaching. But for me, he carries with him a lengthy chain of mental pictures, some captured on film, others not. One of my favourites, that seems to me almost prescient, was taken when he was 4, sitting in silent meditation before his belt test in Tae Kwan Do.
What is it about memory? How it can rescue a day from crankiness? What is it about family memories, sometimes painful at the moment, that they bring us such joy when we revisit them years later? I have no idea what shifted, but even my arthritic bones feel better :).
This is what I think beginner's heart is: a kind of return to balance as we're buffeted by life. A remembering that there is something else, a home space to inhabit. Buddha nature, possibly, but definitely 'breathing space.'
Happy Birthday, Nathan. Happy Birthday, Mother. Thank you both ~ yet again — for giving me the miracle of everyday happiness.