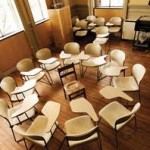 The Buddha talks quite a bit about teaching, about learning. He did almost almost all his teaching outside, to my knowledge (which isn't as encyclopædic as I'd like!). Not in a circle of too-small desks, in a room w/out windows, dominated by a green chalk board and a broken clock. Not in anything remotely resembling my classroom, in other words.
College classrooms, as I've written elsewhere, are abysmal. They're either too small or too big. Too cold or too hot. Dominated by technology or bereft of it. They have stadium seating, too often, so you can't even move tables & chairs to work in groups. Short word? Impersonal. At best.
We sit in circle in my classroom, even big Oklahoma guys. And I try to move around the class, so I get to sit next to each student. They laugh at this, but it gives me the opportunity to be within their space physically, to pat their arms when they say something smart, to whisper a one-liner just to them. I think it's important.
As a teenager living in Thailand, I worked for a short while at an orphanage. There were infants there, the children of American servicemen and Thai prostitutes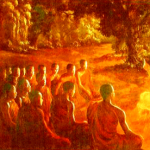 . Beautiful babies, some w/ the soft full curls of their black fathers, others w/ the bright green eyes of mixed-race children. Some days when I would come in to help, a baby would be missing. At first I hoped s/he had been adopted. But soon I began to dread the empty cribs. Almost always the deadly 'failure to thrive' syndrome had claimed another tiny victim. Overcrowded to begin with, the orphanage was no place for quiet infants, wilting into lethargy from lack of touch. Enough food, proper diet, but too few hands. Too little contact. No one to snuggle or dote for more than 1/2 an hour, maybe two. I know human touch, and connection w/ the natural world around us, is necessary.
The Buddha did nothing 'by accident.' So there's certainly a reason that his lessons weren't taught in windowless rooms. I have to make my students stand up, sometimes, to 'get the blood out of their butts.' (And yes, I tell them that.) I have to make them shake their hands & heads and feet (we look like wind-blown scarecrows). Even outside, I sometimes make them stand up, if the wind stops, and the Oklahoma sun is as warm as butter dripping off of Sunday waffles.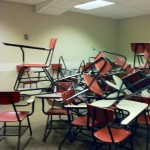 You don't learn sitting in rows. A sterile environment distracts; it doesn't 'fade into the background,' as one explanation claims. Which leads me back to yesterday: My students finished our last class of the year. Responding to a plea from a later class in the same room, they 'put their desks back.' But not in linear rows. Not the way they found them.My students piled their desks in total chaos, each desk high upon another. They laughed the entire time they did it. And they slapped each other on the back, high-five-ing, totally connected.
There was contact, physical and emotional.This is what exuberance looks like in a classroom. Not always controlled, but healthy. Happy. And it reminds me every time I encounter it how lucky I am to teach. And that the Buddha is always sitting in the middle of the circle. Even in my sterile college classroom. With us.