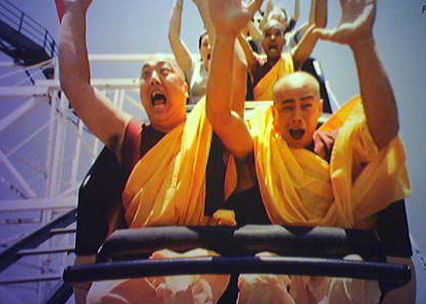 More than a year ago, I was offered this amazing (but intimidating!) opportunity: write a blog for a national website. On Buddhism. I felt (still feel) woefully inadequate to the task.
But I figured, I can just tell folks: I'm no expert. And I'm a pretty good looker-upper :). So I took a deep breath and jumped in.
One year later, I have learned so much. Which is, of course, what happens when we teach. We learn far more than we give. I've learned about Buddhism, certainly — about Buddhist holidays, temples, rituals, beliefs, teachings I didn't know, and a hundred other things.
I learned a LOT about blogging :). And still am!
But mostly, I learned about myself. I learned that no matter how long I write — for how many years — it's always a bit scary. I learned that when I can't write, I can't think. I learned that my sense of humour doesn't always strike folks as funny…:) And I learned how very much I have to learn.
It's the perfect metaphor for Buddhism, of course, not that I don't find Buddhism in most things :). But learning is particularly apt. Because in Buddhism, the more I study, the less I feel I know. And the more I believe I have to, as I tell my writing students, just do it. I have to practice, in other words. Such a lovely word — a license to mess up, to get it wrong, to let go of the idea there's only 'right.'
So today I offer you this: if you want to know more about something, tell someone you'll teach it. And then watch out: the ride is crazy!