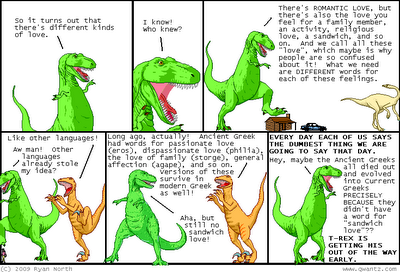 I love the ambiguity of the word love — but I also envy all those other languages their precision: aimer, affectionner, encantar… eros, agape… There are almost as many words for strong affection as there are things to love.
But on Valentine's Day, it seems like only romantic love counts. What's up with that? What about the friends who regularly listen to me whine and rant and go off on tangents? What about my sisters? What about my nieces? What about my amazing sons?? What about my dogs! I mean, of course I love my wonderful husband — I married him, didn't I? And we're STILL married? Still ~
So I'm here to extoll the virtues of universal love. Which in today's incarnation looks like a very dumb T-Rex. 🙂
Seriously — today you should send at least an e-card to a  friend. Tell a sibling how much yo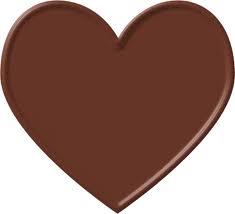 u love him or her. Let your students know they're more than papers to grade (I'm taking mine chocolate :)). Buy your bus driver a lemon bar.
And try to remember: NO ONE is 'single.' Each of us is connected. Love is like the loveliest of webs, connecting us almost invisibly, but still connecting us…
Happy Valentine's Day!