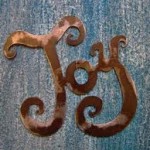 I read a poem today ~ "My Dead Friends." The poet asks her dead friends for counsel when she faces hard choices. And there's a great answer from her dead friends: whatever leads/to joy, they always answer,/to more life and less worry.
That's what I want to do — choose joy. Choose what will live best, even if it's not what 'should' be done. I've never been very good at 'should,' anyway. Far better at play than protocol. But as I begin to sit down to breakfast w/ a milestone birthday, I am certain of only one thing: we are our daily choices, not simply our big decisions.
These days, I want my life to reflect the lightness of joy. I want to offer it up, spread it around, swim in it. And the funny thing? My definition has shifted over the years. When I was 20, 'joy' was the right boots, the right date, the right present. These many years later? Joy is often very simple: the vivid orange of the orchids blooming in the breakfast room. Clean sheets at the end of the day. One perfect line in a poem, after an hour of work.
What brings you joy? Today, seek it out. Open tomorrow to more of it. And think of making it a daily choice ~