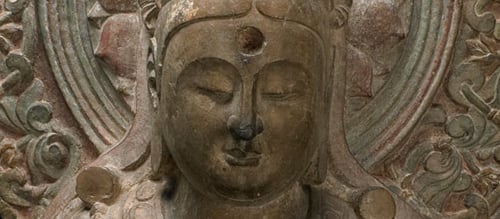 Occasionally people ask me how (why?) I became a Buddhist. And the deal is… I didn't, actually.At least , not until quite late, and then only if you count my bodhisattva vow a few years ago. Long after I identified as a Buddhist, in other words.
So what turns an Okie girl, raised in the Methodist church (at least some of her life), into a Buddhist? How did I go from competitive Bible verse memorisation and vacation Bible school to following my breath? Or have I been a kind of Buddhist since I was a small girl, growing up in a villa on a street in a city far, far away…?
I grew up, I wrote once, in a house with bars on the windows. In a country whose very name has come to mean war, for Americans ~ Việt Nam. Buddhism, Taoism, animism and Catholicism were all around me. They smelled like incense and strings of flowers and rice and rain. Protestantism was, by far, the least interesting option. Protestant Sunday School was held at the American School. Another kind of school — albeit w/ colouring, just held on Sunday.

The Buddhist temple I remember was carved from the ropy interior of a banyan tree, at the zoo. Inside, a saffron-robed monk — like the ones who came each day to the iron gate at the end of the drive, holding out their bowls for rice and vegetables — burned incense to the Buddha. This, I remember thinking, this is where God lives. And it may have been. But the Buddha lived there, too.
As a child, I went with the family servants — the cook Chị Tám who ran our house like happy clockwork; the amah, Chị Bốn, her niece; the baby amah, Chị Ba; the driver and the gardener and all the people who made our house the happy mash-up it was — to Taoist temple; to offer paper clothes to the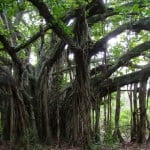 ancestors at Tết; to serve the Buddhist monks who came early each morning for the food served them in their beggar bowls. And I went with Jeannie Adams to catechism and mass, when I stayed over w/ her. And to Hindu temple with Chantharack, my best friend in 3rd grade.
And when we went back to Oklahoma, which soon ceased to feel like home, I went to the small rural Oklahoma church where my cousins went, walking from my grandmother's house south, up the hill and over the railroad tracks. I had access to more religions than most children know exist.
They all seemed a lot the same: you offered your money, your incense, your prayers or mantras, and you promised to be better. To do better. And then you tried to keep your promise. I liked that the Catholics got to go tell on themselves — confession is a bit scary, but very good catharsis. And I liked that we sang with the Methodists and other Protestants.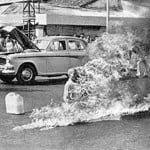 But from the very beginning, I felt at home with the Buddhists. And when the Buddhist monk set himself on fire, just around the corner from the villa where we lived, to protest a war I knew very little about as a child, I felt some kind of door open. This, I remember thinking, this is true faith. This is what people who care about others can do.
I am not the stuff of martyrdom, I assure you. But I believe deeply in standing up for those who cannot stand up for themselves. And social protest was something I recognised as immensely powerful even when I was a young child. It is, I think — coupled with the banyan tree, and the visceral mystery yet practicality of Buddhism — what caught me.
So that's the start, the 'once upon a time' part. There are other reasons, but it really all began, like the movie say, long ago & far away….