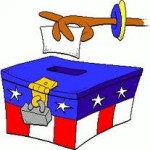 Voting is, to me, the ultimate American right. When I turned 18, you still couldn't vote until you were 21. And like most of my peers, I wondered about the fairness of a country where you could be drafted to die for your country, but you couldn't vote for (or against) the American leaders who sent you there.
So when the 26th Amendment was ratified and made law, the very next day (really) I went downtown and registered to vote. I've missed very few elections — local, state or national — since. It is the definition for me of American citizenship. And whining rights, of course :). If you don't vote, don't complain.
But there's a large conservative organisation that just a few days ago ran almost a hate piece against impoverished American citizens being registered to vote. The American Thinker — a right-wing organisation with beautifully misleading headlines, for articles rife with misleading information — published the following statement September 1st:
Registering [the poor] to vote is like handing out burglary tools to criminals.  It is profoundly antisocial and un-American to empower the nonproductive segments of the population to destroy the country…
Because, the article continues, everyone knows that "those who burden society" (another direct quote) only want to take other people's money. They're all not working NOT because corporations outsourced American jobs, and are sitting on the largest cash reserves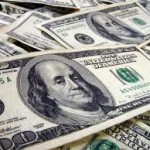 (and in many cases profits) in decades, but because they don't want to, I guess. If you read through the website, the depth of its classism, racism and downright wrongheadedness is breathtaking…
Buddhists aren't supposed to judge. And I try sooo hard not to. I know — sure doesn't seem that way, huh? 🙂 But I also believe — even more firmly than I believe that judging is counter-productive and against Buddhist teachings — that blaming victims is morally reprehensible. Not only does the American Thinker blame those who have lost jobs and are availing themselves of social services they PAID for, the organization also demonises them. Likening them to criminals. Saying they're 'non-productive' as if that is a) true, and b) the worst thing in the world.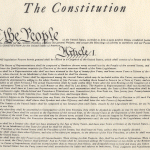 Worse yet, the American Thinker presumes to go up against the Constitution and say who should and should not be allowed to vote. Can we say 'poll tax'…? Let's go back to those splendid days when only those who owned property (can we say 'slaves'?) could vote. When pesky poor people, who might not agree w/ repealing tax cuts for low-income people, couldn't vote out the people who advocate against lower and middle income families. Oh wait! On second thought, the right to vote is expressly guaranteed to all American citizens. Just, apparently, not the right to register to do so…
I find myself laughing at my own anger, a sure-fire way to defuse it, reminding me that Engaged Buddhism isn't about anger, but changing things we can change, and letting go those we can't. So instead of remaining angry, I'm spreading the word. There are people around who would love it if lower income Americans disappeared. And the first step towards making them less visible? Make sure they don't vote.