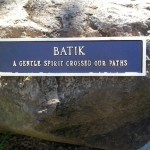 I grew up with batik, buying it, wearing it, loving it. I have pillows made from batik my mother bought in Thailand when I was a teenager. I might save them over books, in a fire :). They remind me of shopping trips to market w/ my mother, and how much she loved their vivid colours and intricate patterns.
My mother was the gentlest of spirits. I used to think of her as one of those exotic, brilliantly coloured small birds we saw at the Saturday market in Bangkok. Caged only by her own fears, adored by almost everyone who knew her, she is even now a hard act to follow. I think she could have worn a burlap sack and looked beautiful…When I was small, I thought her the most beautiful woman in the world. Now, looking at old pictures of her when she was young, she was by far more beautiful than even the most beautiful of her four daughters (not me, unfortunately!).
She taught me how to have fun. My cousin Sally tells of cooking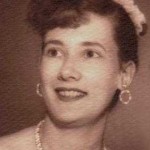 pineapple upside-down cake w/ Mother late at night, when the pre-teen Sally was over for the weekend, to help my mother w/ 3 irrepressible daughters. When the cake came out, and it was LATE, Sally says they put it on the counter and had it for breakfast the next day :). That would be Mother…
She sometimes let me stay home sick when I was sick of school. People often don't believe that someone who got advanced degrees could hate school, but I did. I hated the social posturing, the classes w/ dumb teachers. I still remember the French teacher who had the office call my mother because I corrected her pronunciation of Việt Nam. My mother, bless her French-speaking heart, told the teacher she was wrong. And then had me transferred to another class.
On the island where we spent three summers, we four daughters would accompany her to market. Mother loved the bright colours of the batik stores, where batik sarongs hung from wooden display rods, or climbed the walls of small shops. She would buy colours she loved — vivid bright tropical colours, with no idea what she might use the fabric to make. A green&gold batik sarong length became a dress; others might become a pant suit or even upholstery for a chair. Batik was a tightly woven cotton, and kept its colours well. Good for a family with four kids. It was also beautiful, and absolutely tropical.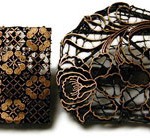 Like each batik, Mother was one-of-a-kind. Slightly exotic, but also practical,  although that's not a word most folks would probably assign to her. She taught me to mitre corners, so I could impress my father, who was career Army. At one point she & I could both bounce pennies off the sheets, me at 6, she at 34. She taught me how to set a table ~ calling card manners from her years as an Army wife ~ and how to garden and how to make a temporary house into a home. She taught me life lessons even more important: that love takes time, that we always have both far more and far less time than we think.
Once when I was having severe personal problems, she told me to give it time. "You think you don't have time, but you do," she assured me. "Time is the one thing we do have." So I lightened up, and things worked out. Mother was correct — I had time.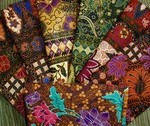 But Mother didn't. We lost her, just right at four years ago next month. For at least 8 years before that, she had Alzheimer's. Still, up to the end her eyes would light up when one of her four daughters walked in her room. Her sense of family, her love of her four daughters (each of whom, she was quite certain, was perfect: beautiful, talented, and deserving of world renown :)), her playful humour and so much more form a kind of foundation for much of who I am today.
If Mother passed this way, she probably was wearing batik. In the bright orange or green or red she loved. Easily the gentlest of spirits — wearing one of the tropical white flower perfumes she loved. And it might well have been in magical Portland, at the zoo…