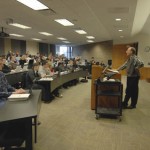 I hate college classrooms. Everything we know about the impact of softscape on learning — lighting, seating, groups, etc. — goes out the window when we work w/ adult learners.
So each class period, my students (at my request) form their desks or tables in a rough circle. They talk about how they like being able to see each other. How that rarely happens in college classrooms, or even in HS. It makes them connect — they LOOK at each other. It's about the only control I have over the physical environment. The rest is awful: uncomfortable chairs, wobbly tables or desks, sometimes no windows.
When weather is nice, we go outside (although allergy sufferers always get rights of refusal :)). That's a whole different kind of class, more laid back, more engaged. Just all around more pleasant :). There are birds and tree shade and the distractions of colour and wind and just being in the air outside.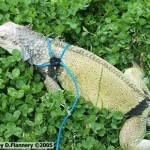 Some day my students bring their pets — Macie brought her lizards in harness this past semester, and the kittens she was fostering. The semester before, Kalyn brought her puppy Butters. It may not seem like much, but it helps humanise the learning environment. And how important that is…
I wish I could set up comfortable chairs, like a board room, at the very least. Better yet would be tables on casters, so we could move them apart for small group work, and cluster for big group. In an ideal learning environment, we would have access to an outdoor classroom — w/ wifi and a roof for sun or rain. And we would spend at least a couple of class periods a month outside. As Richard Louv says, it helps everyone.
I try to move around my classroom, so I get to sit next to each student. They laugh at me, but it gives me the opportunity to physically be in their space — to pat their arms when they say something smart. To just be next to them.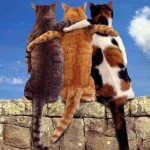 Teachers — most of us, really — are losing the privilege of touch. We don't hug our kids — not the big ones, and years ago, as a room mother of littler ones, I was warned 'not to touch the kids.' I told the school to find a new room mother. We don't hug each other, at least most of us don't. But human beings are animals — they respond to caring contact, physical and mental and emotional and spiritual. We need our human pack. So I hug. A lot — it drives some of my colleagues crazy. Funny, though — it never seems to bother my kids. Sometimes a hug and a smile is all I have to offer someone. Sometimes it's enough…