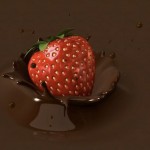 What is it about chocolate? Especially coupled w/ sweet, juicy, just-picked strawberries? How can something so easy seem so special? So decadent?
Confession #1: I'm crazy about chocolate. Confession #2: not just any chocolate. I don't particularly care for candy bars, or milk chocolate in general. Give me dark chocolate — at least 60% or more. And make it pretty expensive — w/ chocolate, you really do get what you pay for. Then let's buy several pints of Emily & Mike's organic, picked-this-morning strawberries, gently rinsed, patted completely dry, and dipped in the unctuous brown manna of melted chocolate. And let's call that parfaitment, as the French would say :). Complete perfection.
Like my two French bulldogs who love treats, human beings are animals. Who also love treats. If we call the dogs from the forbidden territory of the front yard, after one of those 'oh no! the dogs got out!' accidents, they come galloping as fast as their stubby legs can carry them. Because we ALWAYS say that magic word: Treats!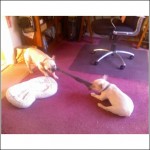 Just now, Pascal (the older dog) insisted that this is playtime, not writing time. So I bought myself 30 minutes of peace — two red Kongs filled w/ frozen peanut butter. They will be happily licking the peanut butter out of the inside whorls for at least a peaceful half-hour. Would they work this hard for anything else? Of course not — but a treat? 🙂
So yesterday, when the world seemed greyer than a dense shadow, and nothing about it held promise, I went to market. Farmer's market. And I picked up five pints of organic, just-picked Oklahoma strawberries. Plus Emily (of Emily & Mike's farm :)) gave me an extra one 🙂 (thanks, Emily!).
I rinsed the strawberries carefully. Patted them dry (or the chocolate won't adhere :)). Melted the organic chocolate in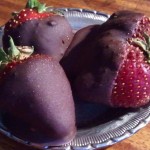 a Pyrex cup. And dipped the dry strawberries, laying them on wax paper and putting the whole thing in the fridge to set up. Voilà! Decadent chocolate-covered strawberries. MUCH easier than pie.
And by the time it was all done — the convertible trip, top down, to the market; the rinsing and melting and dipping and cooling — I was fine. Really fine. AND I now have chocolate-covered strawberries! And life is MUCH better … 🙂