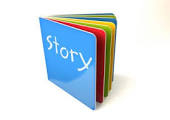 We all have a story or narrative that constantly plays over and over again in our lives. As a Life Coach, I've had many clients tell  me their stories of hurt and pain.  The problem is that our narratives of tragedy become our identity.  My primary goal as a coach is help my clients to create a new narrative one that they can be happy and a peace with.
How do we develop a new narrative?  We sever the ties with the old story.  Life happens from us, which means that we have the power to create and design the life we want for ourselves.  It all begins with a shift in our thinking.  We have to begin to see our lives as half full regardless of what is going on.  For example if you're able to read this blog, you are indeed a step above a large majority of the world.
The old narrative that we've allowed to run our lives has left very damaging affect on our future.  But the great thing is, it's never too late to break and put to rest the old to embrace the new.  This task won't be easy, but you must stay dedicated to the process.  Everyday little by little create the narrative you want.
Remember we have the ability to not only change our world, but the world as a whole….BE GREAT!!
Until Next Time,
Pervis
Pervis Taylor, III is an Author, Life Coach, Speaker and Contributor. His books Pervis Principles Volume 1 and 2 are available exclusively on his website: www.pervistaylor.com/author. He is the creator of the inspiration/life coaching mobile app, I-Inspire, available for IPhones, Ipad and Ipod Touch via: www.pervistaylor.com/i-inspire/. He resides in New York City. Follow him on Twitter @pervistaylor or Facebook www.facebook.com/pervistaylor3.