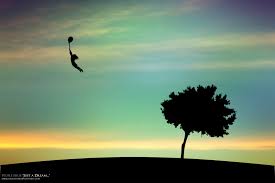 Today I had the pleasure of meeting some wonderful kids at a charter school here in New York.  I always love getting asked questions.  And in true form my expectations were met.  One young lady, Regine, asked me how does one stay committed to their dreams if their dreams are not materializing the way they'd like.  Basically she asked how and why do you keep going if you don't make money.
I thought about it for a second and then I asked her a question. "Why do you want to do what you do? Is it for fame? Money? Adulation? " She replied, "because its my life's purpose." I smiled back and said "As long as you are authentic to your dream, your dream will be authentic to you."  That got me to thinking about my own life.  Every time I was inauthentic about my dream it in turn was the same towards me.  How often in life have we gone after things from an impure place to only have them turn out to be a disaster?
Today examine your motives in not only your dreams, but also in your relationships.  Are you being truthful and authentic?  Is your relationship or dream yielding what you've invested in it?  If not re-examine your intentions and begin again.  I've always known it to be true that we have a relationship with everything in life.  Moreover, when we change, then the relationship is altered.  Today let's embrace our passions and relationships from a heart of joy and gratitude and watch how they turn a round for our good. Be Great!!!
Remember we have the ability to not only change our world, but the world as a whole….BE GREAT!!
Until Next Time,
Pervis
Pervis Taylor, III is an Author, Life Coach, Speaker and Contributor. His books Pervis Principles Volume 1 and 2 are available exclusively on his website: www.pervistaylor.com/author. He is the creator of the inspiration/life coaching mobile app, I-Inspire, available for IPhones, Ipad and Ipod Touch via: www.pervistaylor.com/i-inspire/. He resides in New York City. Follow him on Twitter @pervistaylor or Facebook www.facebook.com/pervistaylor3.