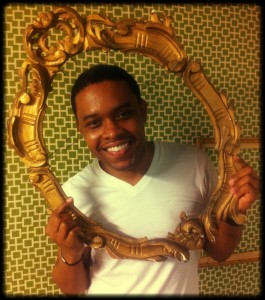 "Son you're destined for greatness", my mother would say to me on almost a daily basis.  I didn't realize it then, but my mother was planting seeds in me that she expected to return bountifully.  However, at the time I was suffering deeply inside.  High School.  I was made fun of for being different and emasculated (often) and it was just quite the unpleasant existence.
I remember being around 15 years old and a young lady gave me a CD that would change my life. The CD was My Life, by Mary J. Blige.  That was the first time I had a connection to music and it touched me  viscerally. In that moment I felt inspiration.  I remember I said to God I hope to be able to make something that touches someone's life the way this album touched mine.
I had no idea how I was going to make this happen. I tried so many avenues in my life from music to acting and modeling (which I still love).  But, I discovered the common thread in my life.   Ironically, it was inspiration.  I was always the person people went to for advice.  It brought me joy to bring encouragement to others.  I prayed "God use me."  He did.
God can dream a bigger dream than you.  I'm from Lancaster, Texas and I've been so fortunate to be able to take my small gift of inspiration and be able to connect with so many wonderful people (including those who read this blog) around the world through my books, app, coaching and speaking.  Let this be of encouragement to you.  No matter where you may find yourself in life, know that circumstances do not matter to God.  I'm the accidental encourager. The thing I desired most from life, I now give.
Isn't that ironic? If it can happen for me, it will happen for you.  Examine the common thread in your life. In that lies your purpose.  Once you've discovered it, simply ask God to use you.  Here' s the secret: No matter how big or small of a scale it is, BE THANKFUL. When you do, it  (your greatness) magnifies in your life!
Moral of the story? You are great and once you implement your greatness it will become greater. Just simply be used.
Remember we have the ability to not only change our world, but the world as a whole….BE GREAT!!
Until Next Time,
Pervis
Pervis Taylor, III is an Author, Life Coach, Speaker and Contributor. His books Pervis Principles Volume 1 and 2 are available exclusively on his website: www.pervistaylor.com/author. He is the creator of the inspiration app, I-Inspire available for IPhones via: http://pervistaylor.com/i-inspire/. He resides in New York City. Follow him on twitter @pervistaylor or facebook www.facebook.com/pervistaylor3.