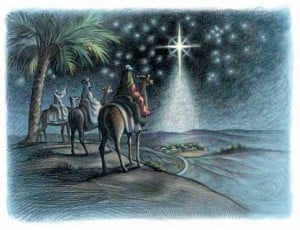 On a recent episode of my radio show, Rise UP with B. Dave Walters we discussed the true meaning of Christmas, and how to deal with some of the negative emotions that can come along with it. I got so emotional while talking about the meaning of Christmas that I cried on the radio; something I didn't think was possible!
We have also talked about some of the more…controversial aspects of religion, such as whether or not it's a sin to be gay or whether or not pornography or masturbation are sins, too.
So of course, now it's time to take on Christmas.
First, let me be clear about one very important thing: Christmas is the most important day of the year, and I believe that the birth of Jesus Christ is the most important event in human history.
Just not for the reasons that you have been told.
So before we can answer if Jesus himself would celebrate this holiday, we have to look at why he *wouldn't*.
My own personal path has evolved from rejecting any of the pagan elements of the Holiday (and there are several), to being disgusted by the commercialism of Christmas, to where it is now. So let us look at each of these in turn, and how I see it now.
First, the Pagan elements of Christmas:
It is important to understand that Christmas trees, Yule logs, singing carols, giving gifts and having holiday feasts were done for a very long time before Jesus was born. People have been celebrating the 'birth of God' on December 25th for thousands of years. Add to that the fact that there is substantial evidence that Jesus wasn't born on December 25th, but sometime in September.
Here is an excellent (and a little scary) video that gives a short overview about how many elements of Christianity come from earlier religious traditions. It is important to note: understanding history doesn't mean you aren't a Christian, it just means you are informed.
The fact is yes, MANY elements of this celebration were borrowed from other places; but after 2,000 years they are our traditions now. Anyone who truly wishes to celebrate the way the first Christmas was only needs to go out and do it in a barn!
Second, the commercialization of Christmas:
It is hard to deny that Christmas is big business.
Considering most of our economy is built upon convincing you that you aren't good enough, it follows naturally that Christmas marketing centers around trying to spend money to fight that fear.
Somewhere along the way, we lost track of giving gifts to show our loved ones that we care, to trying to buy their love and approval. Ask yourself, when you went Christmas shopping this year, how often did you think about how much they would love and appreciate the gift, and how good it would make you feel to give it? Or how much did you think about giving gifts because you HAD to? Because if you didn't, or didn't spend enough, what would they say?
Chances are you did a bit of both, and any parent knows there is no feeling on Earth like seeing your children's faces light up when they open up that special gift. I would simply invite you to keep the love and appreciation you are trying to express at the front of your mind instead of the commercialism. Rather than just give the gifts, or even writing it in a card, try telling someone how much they mean to you and how much you care.
That is a real gift.
So, what is the true meaning of Christmas?
I opened this article by saying Christmas is the most important day of the year, and I believe that the birth of Jesus Christ is the most important event in human history; now let me tell you why.
Because no matter how much has been added or subtracted to it over the years, Christmas symbolizes the fact that God opened a way for people to be able to connect with Him completely and directly. It also celebrates the birth and life of a man who was so completely filled with the Spirit that he provided us with an example we could use to pattern our lives around in order to server God and our fellow human beings.
So would Jesus celebrate Christmas?
Well, the obvious answer is no, he'd be celebrating Hanukkah because he was Jewish! But, for his 33 years on Earth I am sure he celebrated his own birth; but if he were here in the flesh today he would probably do things much differently.
It is clear in the Gospels that Jesus enjoyed celebrating and having a good time, but it is also clear that he kept serving God at the center of his heart. So whether he observed Hanukkah as an observant Jew, or Christmas as a Christian is actually secondary to the fact that he would remind us of all the tremendous blessing God has given us, and how important it is to keep that love and gratitude at the forefront of our hearts and at the center of our lives.
I want to leave you with something special: the greatest story ever told. It's about a young girl chosen by God, her new husband, and a tiny baby they brought into the world in the humblest of surroundings; in a barn surrounded by animals. That little baby would grow up to teach us to love one another fearlessly; and to forgive anyone who has slighted us.
To always work to be a blessing to our fellow human beings, because God has so richly blessed us.
So now, I wish you peace, love, and happiness; peace on Earth and good will towards men. I truly love you, and thank God for you every single day.
Merry Christmas and Happy Holidays to you and your loved ones.
The Birth of Jesus (Luke 2:1-21):
1 In those days Caesar Augustus issued a decree that a census should be taken of the entire Roman world. 2 (This was the first census that took place while[a] Quirinius was governor of Syria.) 3 And everyone went to their own town to register.
4 So Joseph also went up from the town of Nazareth in Galilee to Judea, to Bethlehem the town of David, because he belonged to the house and line of David. 5 He went there to register with Mary, who was pledged to be married to him and was expecting a child. 6 While they were there, the time came for the baby to be born, 7 and she gave birth to her firstborn, a son. She wrapped him in cloths and placed him in a manger, because there was no guest room available for them.
8 And there were shepherds living out in the fields nearby, keeping watch over their flocks at night. 9 An angel of the Lord appeared to them, and the glory of the Lord shone around them, and they were terrified. 10 But the angel said to them, "Do not be afraid. I bring you good news that will cause great joy for all the people. 11 Today in the town of David a Savior has been born to you; he is the Messiah, the Lord. 12 This will be a sign to you: You will find a baby wrapped in cloths and lying in a manger.
13 Suddenly a great company of the heavenly host appeared with the angel, praising God and saying,
14 "Glory to God in the highest heaven, and on earth peace to those on whom his favor rests."
15 When the angels had left them and gone into heaven, the shepherds said to one another, "Let's go to Bethlehem and see this thing that has happened, which the Lord has told us about."
16 So they hurried off and found Mary and Joseph, and the baby, who was lying in the manger. 17 When they had seen him, they spread the word concerning what had been told them about this child, 18 and all who heard it were amazed at what the shepherds said to them. 19 But Mary treasured up all these things and pondered them in her heart. 20 The shepherds returned, glorifying and praising God for all the things they had heard and seen, which were just as they had been told.
21 On the eighth day, when it was time to circumcise the child, he was named Jesus, the name the angel had given him before he was conceived."
You are great, and I love you!
And if you love me back, click 'share' up at the top!
B. Dave Walters
Writer, Life Coach, and Talk Radio Host
Find out more about me:
http://about.me/BDaveWalters
Ask me anything:
http://formspring.me/BDaveWalters
Pages I support:
Jesus and Buddha — Interfaith dialog
Gnostic Theism — Religion and Spirituality for the 21st Century (Join the Movement!)
Love One Another — A safe place to come find more reasons to smile!