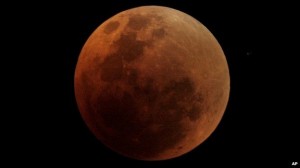 Starting on October 8, his week will have a particularly powerful alignment when we have a Blood Moon, a Hunter's Moon, AND a full moon in Aries will be happening all at once! This is a particularly powerful alignment of energies, and here is how to make use of it rather than be burned up!
First and foremost, The Hunter/Harvest Moon is the first full moon after the Autumnal Equinox, signaling the real end of summer, and the time to gather the results of her efforts before the Earth goes to sleep. This full moon is in Aries, which is bound to bring out a lot of energy and aggression; be careful not to lose your temper, or take things other people say too personally.
A "Blood Moon" is another name for a total lunar eclipse. Eclipses always signal times of massive change; lunar eclipses tend to focus on matters of home and heart. As always, this time of year is moving into the 'darker' times, when change tends to be more introspective; a time for planting seeds. A combination of the inner energy of the eclipse with the outer energy of the full moon in Aries, may cause you to feel restless, frustrated, or like 'enough is enough'; instead of becoming frustrated, channel that energy into making different choices and new plans that you can begin to put into motion. Pay particular attention to any dreams you might have these next few days; you can learn a lot as long as you interpret them correctly!
One final note: Because of this unique (and complicated) combination of events, a lot of repressed energy in relationships will be coming to the forefront. Hidden affairs, unexpressed love, and all things unsaid are going to be VERY close to the surface, and may bubble up with the slightest nudge.
Remember, a lot of inner turmoil going on; if possible, use this time to have open, heart-to-heart talks with your significant other (remember, if you can't communicate, you don't have a relationship!). This can be a time of substantial breakthroughs in your inner and romantic lives…if you make the most of it!
And remember, if people seem to be acting like they are going a bit crazy, don't take it personally…they are!
What do you think? Feel free to comment down below!
You are great, and I love you!
And if you love me back, click 'share' up at the top!
B. Dave Walters Writer, Life Coach, and Talk Radio Host
Find out more about me: http://about.me/BDaveWalters
Ask me anything: http://formspring.me/BDaveWalters
Become a supporter of my work: http://www.patreon.com/bdavewalters
Pages I support:
Jesus and Buddha — Interfaith dialog
Gnostic Theism — Religion and Spirituality for the 21st Century (Join the Movement!)
Love One Another — A group for the coolest Spiritual people on the Internet!