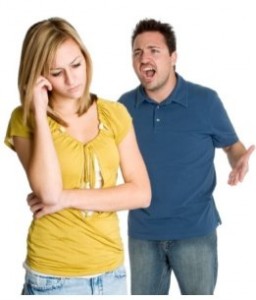 Question submitted via Formspring:
"I think my partner is emotionally abusive, but I'm not sure if that means we need to separate. He stonewalls, withholds, ignores many of my requests for response/information, he seems entitled and self-serving, he claims to care about me but can be cruel."
First, let's break this into pieces:
You think (think?) your partner is emotionally abusive.
He stonewalls, withholds information, and ignores your 'many' requests for communication.
He seems entitled and self-serving.
He 'claims' to care, but can be cruel.
And yet, you aren't sure that means you need to separate.
My first question would be: If your partner being distant, neglectful, deceitful, emotionally abusive and cruel isn't grounds to separate, what is?
Note, you referred to him as your partner. Not boyfriend, not fiancé, not lover, partner, which in hetero relationships is usually a sign of some sort of ambiguity. Perhaps you can't even get him to have 'the talk' about what it is you are to each other, or he may have given you the classic line about 'not wanting to label it'. A person being unwilling to commit is generally a sign of one of two things: 1. They are waiting for something better to come along, or, 2. They have a lot of baggage from the past that is making them afraid to commit. And either one is bad for business.
But focusing on the details you have given, yes it is time to begin trying to separate for several reasons, but the main one is this: If you can't communicate, you don't have a relationship. You said yourself he evades your questions and ignores your needs, but expects you to live up to his (entitled and self-serving).
A better question is, why wouldn't you want to separate from him? Why do you think this type of treatment is what you deserve, or at least that you don't deserve better? I'm sure you are thinking "but I love him," but unfortunately that's not enough. Respect and trust are actually more important, and your relationship is lacking in both.
What do you think she should do? Feel free to comment down below!
You are great, and I love you!
And if you love me back, click 'share' up at the top!
B. Dave Walters Writer, Life Coach, and Talk Radio Host
Find out more about me: http://about.me/BDaveWalters
Ask me anything: http://formspring.me/BDaveWalters
Pages I support:
Jesus and Buddha — Interfaith dialog
Gnostic Theism — Religion and Spirituality for the 21st Century (Join the Movement!)
Love One Another — A group for the coolest Spiritual people on the Internet!