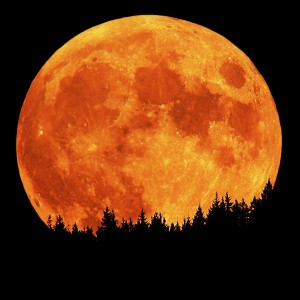 The October full moon, known as the Hunter's Moon, or the Sanguine Moon, will be starting on the afternoon of Monday the 29th and moving through Halloween on Wednesday, October 31st. Although, as we have discussed many times before, the full moon energy begins before the actual full moon starts, and continues for a few days afterwards. In general, the energy of the planets comes and goes like the tides, rather than turn on and off like a light switch.
This full moon is particularly powerful, since it combines the energy of the full moon in Taurus, with the sun in Scorpio. Full moons almost have a powerful impact on our emotions, and a full moon in Taurus is likely to make attitudes more rigid, and people more stubborn. But, it is also a good time to figure out what is really important to you, and what you are unwilling to compromise about. The sun being in Scorpio tends to make attitudes more sensual, and attitudes more erratic and emotional. Combine that with the fact that Mercury will be in Scorpio also through the 29th, communication has a big risk of coming from a place of passion and emotion, rather than common sense and reason.
According to This Week in Astrology, when you combine these forces, you get a: "Full Moon illuminates this conflict between form (Taurus) and transformation (Scorpio), and between collecting (Taurus) and sharing (Scorpio). This is a passionate and creative Full Moon, ripe with possibilities and learning experiences. Intimate relationship matters, such as personal comfort levels and values as well as sexuality, figure prominently now."
So, if you find yourself feeling emotional, argumentative, borderline childish and quite frankly very horny over the next few days don't feel bad; you aren't going crazy! But, by the same token, once you are aware of the forces that are at work against you, and everyone you know, you can see it for what it is. If you find yourself in a conversation that is going in the wrong direction, be the bigger person and back down. There is no point in arguing with someone who is feeling just as passionate and stubborn as you are, and it won't matter in a few days, anyway.
Better to take a step back now, and talk about it when you've both regained your senses later in the week, than spend the next month trying to make it up to each other! Of course, this also means you should be extra careful at those Halloween parties, especially once the alcohol starts flowing!
Now, there is another force that is work right now, and that is the energy of the Halloween holiday. People have been observing this as a sacred time for thousands of years, as not only the time to focus on putting away enough supplies to survive the winter, but for one other very important reason. The boundary between this world and the next is thinnest around this time of year. It's no coincidence that people all over the world celebrated the dead and departed around late October, and went out of their way to make sure the spirits were appeased. The Pagan holiday of Samhain (pronounced sa-win) was to celebrate this alignment, but different groups celebrate it for different reasons. The holiday of All Hallows Eve (Halloween) was the Christianized version of this celebration.
The origin of the custom of dressing up in costumes was to blend in with the spirits who were walking the Earth on October 31st, when the boundary was at its weakest. So, pending how sensitive you are, you might get a distinct sense that you aren't alone over these next few days, and once again, you aren't crazy…there are definitely more spirits around. If you have lost loved ones who have gone on to the next world, this is an excellent time to talk to them; they can hear you better than usual. And you might just be able to hear them back.
As always, the most important thing to keep in mind during this full moon week is that you're probably going to feel emotional, and so will everyone else, and that's ok. Don't take anything personally, and don't say or do anything you'll regret once you are back to your senses. Pay extra special attention to your dreams, your emotions, and 'coincidences', since it might be a message in disguise!
You are great, and I love you!
And if you love me back, click 'share' up at the top!
B. Dave Walters Writer, Life Coach, and Talk Radio Host
Find out more about me: http://about.me/BDaveWalters
Ask me anything: http://formspring.me/BDaveWalters
Pages I support:
Jesus and Buddha — Interfaith dialog
Gnostic Theism — Religion and Spirituality for the 21st Century (Join the Movement!)
Love One Another — A group for the coolest Spiritual people on the Internet!