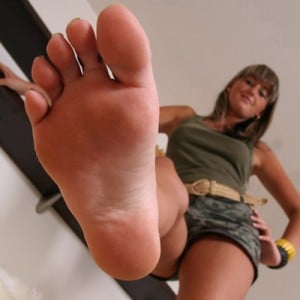 Question submitted via Formspring:
"Hello, Dave; I have a foot fetish, and I am scared to tell my girlfriend of 4 months about it. I'm scared that when she finds out, she'll get grossed out. Should I tell her? And is there something wrong with me? I've had it since I can remember."
The simple answer is: no, there is nothing wrong with you; and yes, you should tell her.
It is true that having a foot fetish (being sexually aroused by feet, for the uninitiated), may be unusual, but it's probably more common than you'd think. Add to that, it's a relatively harmless thing to be turned on by; it's not like you are into hurting people, or children, or something illegal.
As for why you should tell her, the reason is simple: if you can't communicate, you don't have a relationship. Healthy intimacy is the foundation of a romantic relationship; without that, you are just friends. And if you are keeping something from her, something you feel is 'wrong' with you no less, then you are always going to have a big block in your communication and your intimacy; not good.
The fact that it's only been four months is actually a good thing; since if she IS totally grossed out by it, you won't have wasted years with someone who is sexually incompatible with you.
The real challenge will be how you reveal it to her; don't just blurt out I "I have a foot fetish", or turn on a foot fetish DVD. My suggestion is give her an absolutely mind blowing foot massage, and proceed to give her the most enjoyable sexual experience of her life; do every little thing you know she enjoys, and make it all about her.
And when she is lying there, as exhausted as she is satisfied, just casually mention, "I don't know why, but something about feet just really turns me on".
Once she sees what's in it for her, you'll never have another problem with it!
You are great, and I love you!
And if you love me back, click 'share' up at the top!
B. Dave Walters
Writer, Life Coach, and Talk Radio Host
Find out more about me:
http://about.me/BDaveWalters
Ask me anything:
http://formspring.me/BDaveWalters
Pages I support:
Jesus and Buddha — Interfaith dialog
Gnostic Theism — Religion and Spirituality for the 21st Century (Join the Movement!)
Love One Another — A group for the coolest Spiritual people on the Internet!