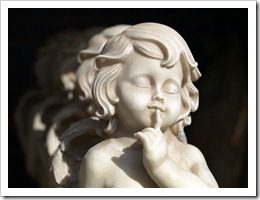 I get asked this question all the time. It really is very easy but our minds can make it so much harder. We can doubt what we are hearing or sensing or feeling.
You are always surrounded by angels. The moment you ask them for help they are there. The problem is we often don't let the help in.
When I first started connecting with the angels I found writing the most affective way. I would write a question and then write down whatever words came to me.
With a bit of practice I easily got answers to my questions. The hardest thing for me was putting aside my doubts. "Was that just my mind, wishful thinking or REALLY an angel?"
Suggestions I have as you begin to have an amazing relationship with angels is:
trust the process
practice asking and listening for the answers
follow the cosmic breadcrumbs. By this I mean follow the clues – you may feel  moved to pick up a book or a paper. Sometimes your answers may show up in a headline or line that catches your attention on TV.
allow the process to be as easy and effortless as possible
listen for the gentle, loving whispers
Allow the process of learning to connect with the angels to be fun and easy and it will be.
Calling the angels into your home
With love and aloha,
Susan
Angels are everywhere just open your mind and your heart to the signs.
Make Angels on Your Shoulder part of your daily routine and share it with a friend!