I received several emails from people about overcoming issues with insomnia and parents with addictions. He is the best ….
This is an excerpt from my book The Complete Encyclopedia of Angels: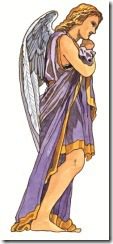 Zerachiel is one of the seven archangels named in the Book of Enoch. He is an angel of healing who watches over human beings, especially those children whose parents have problems with addictions. Zerachiel understands children raised in such homes need extra love and support. He embraces them with his wings and whispers words of encouragement to them while they sleep. If you have problems with night terrors or falling asleep, Zerachiel will help you. He will also help you work with your dreams.
He has dominion over the earth and tenderly takes care of the environment and animals of all kinds. Call upon his healing power immediately if one of your pets fall ill. If your beloved pet gets lost, Zerachiel will help you find him.
Zerachiel helps with memory. He is a great angel to call on before you take an exam, need to remember a person's name or find an object, such as your keys.
When he is around you will probably see flashes of burgundy or deep purple. His robes are bordered in gold and he wears a golden belt. He is regal in bearing and has a soft, loving and kind face. When you call on him you will feel a gentle warmth spreading across your chest. Your hands and feet might tingle. Zerachiel may whisper to you in your dreams. You may even find yourself turning left when you meant to go right. Trust the process and know he is guiding you. If, for example, you get an urge for a cup of exotic coffee, go to your favorite coffee house and expect to find the answer to your problems there.
Invocation:
A simple request will immediately bring Zerachiel to your aid. He is a great listener so pour out your heart to him. His loving presence will guide you to the better times right around the corner.
Zerachiel will help you with:
Releasing addictions
Finding lost objects and pets
Healing
Gardening projects
Working with your dreams
Insomnia
Coming to terms with childhood traumas
Calling the angels into your home
With love and aloha,
Susan
Angels are everywhere just open your mind and your heart to the signs.
Make Angels on Your Shoulder part of your daily routine and share it with a friend!