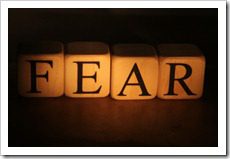 Fear is only as real as we make it but sometimes it seems overwhelming. Here are a dozen quotes to help you move beyond fear and maybe even remember to laugh at it! Of course angels are experts at dispelling fear but at times we forget that we really do have angels on our shoulders!
You block your dream when you allow your fear to grow bigger than your faith. Mary Morrissey

Keep your fears to yourself but share your courage with others. Robert Louis Stevenson

Many of our fears are tissue-paper-thin, and a single courageous step would carry us clear through them. Brendan Francis

Fear is faith that it won't work out. Sister Mary Tricky

Fear is the father of courage and the mother of safety. Henry H. Tweedy

Fear has a large shadow, but he himself is small. Ruth Gendler
Fear makes strangers of people who would be friends. Shirley Maclaine

To conquer fear is the beginning of wisdom. Bertrand Russell
Fear cannot take what you do not give it. Christopher Coan

Fear is just your feelings asking for a hug. Danielle Sanchez-Witzel

Fear is static that prevents me from hearing myself. Samuel Butler

Fear makes the wolf bigger than he is. German Proverb
Calling the angels into your home
Read more Fearless Fridays:
• 5 Ways Fear Can Improve Your Life
• 7 Ways to Overcome Fear
• Inspirational Quotes on Fear
• View all Fearless Fridays posts
With love and aloha,
Susan
Angels are everywhere just open your mind and your heart to the signs.
Make Angels on Your Shoulder part of your daily routine and share it with a friend!