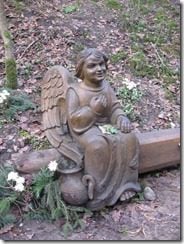 So how was your weekend with the angels? I suggest you start planning a special weekend with your angelic guests right now. It isn't every body that gets to spend the weekend with angels. I know that sounds corny but it is true.
One of the most powerful things I ever did was set aside a weekend just for me and the angels. I set aside a weekend, bought special food, told all my friends I would be away, turned off my phone and spent the weekend in silence. I really enjoyed the peace and quiet once my mind settled down and stopped thinking about ways to distract be and get busy.
We have two more weekends with the angels. Pick one and make it a weekend you will never forget. This week I will share ways to meditate with the angels so you can feel their presence and make some suggestions about ways to be prepared. Wouldn't it be fun if we all decided to spend Memorial Day weekend with the angels.
On Memorial Day, Monday May 30 we will do a ceremony to send the angels onto to their next 40 day destination. Our imagination is very powerful. I just imagined angels filling my office as I wrote this post. One had a pen with a long, graceful feather on the end. They were all smiling and already beginning to make plans for our weekend together.
Invite them to dine with you tonight, put out a place setting and plan the next two weeks together. Set a place for them in your life and watch their loving influence infuse your life and fill it with magic and miracles.
See all 40 days with angels posts
With love and aloha,
Susan
Angels are everywhere just open your mind and your heart to the signs.
Make Angels on Your Shoulder part of your daily routine and share it with a friend!