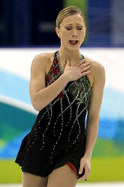 "The hurdles she faces motivate her to rise above them, Joannie has always been naturally determined and persevering."
This is what her mom, Therese Rochette said of her daughter. Therese suddenly died of a heart attack Sunday.
I was deeply moved by Joannie's performance Tuesday night. When she got off the ice she burst into tears. Her performance was amazing!
I still vividly remember the phone call I received many years ago telling me my mom had died in a car accident. The feelings were overwhelming and I applaud Joannie for the courage to go on and skate her heart out for her mom.
I am sure the angles lifted her up and continue to embrace her with their love and support. I hope she goes on to win the gold and then has time to mourn the passing of her mom. She is definitely in my thoughts and prayers.
With love and aloha,
Susan
Angels are everywhere just open your mind and your heart to the signs.
Make Angels on Your Shoulder part of your daily routine and share it with a friend!