Welcome to 2020! Seems like I am living in the future lol. I do like the 'sound' of 2020. I heard Barbara Walters welcoming me to 2020 as I rang in the new year.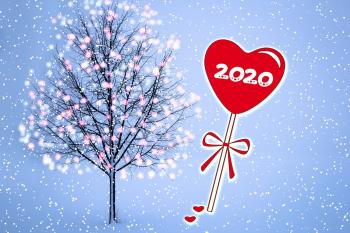 It struck me that it has been 20 years since we partied like it was 1999. I did a bit of a review as I let that sink in. What were my goals back then and how did I do at making them come true? I was actually a bit amazed. It didn't always feel like I was making forward movement, but today as I look back, I have made a lot of them a reality. None of them look like I imagined at the time, but they did all turn out as planned.
I do look forward to 2020 and see it as a year of plenty. What are you hopes and dreams, and have you created a plan to make them happen in this new year?
Your Angel Guidance is to set your goals and intentions for 2020 now!"
What do you want to create in your life over this next cycle? Now is the time to look at the seeds you wish to plant and set your intention. This is the year to make sure you are looking after all aspects of you, the Spiritual, Mental, Emotion, and Physical you. In other words, make time to meditate, walk in nature, walk in mastery, and nurture yourself in all that you do.
If you haven't tried this yet, take The 30 Day Challenge and work with the power of mastering the world of thoughts and feelings. This help you start off the next cycle in a positive light and balance your four bodies.
Love and blessings, Sharon and the Angels
#lovetheangels
Here is an affiliate link to Sharon's book contains lots of wonderful ways to work with the angels and makes a wonderful present. Available here through a amazon link Angel Guidance, Messages of love and Healing or get the kindle and start reading today!
"As an Amazon Associate I earn from qualifying purchases." Thank you