After some sessions earlier the angels said…"Angels Unware"…for often the human angel doesn't see the magic of her own light. Many of the human angels are weary right now and so they need to be reminded of their love, their beauty, and their magnificence.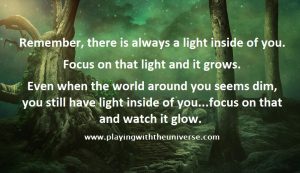 I have been hearing from lots of people who are weary right now, especially lately. Never before has there been a better time for those human angels to get some healing or start self healing and learning to put that first. Especially for those who are angels unaware. These are the ones who need some love and light shone upon them, for their reserves are often depleted from giving away so much of themselves.
You are  the ones who are needed to shine your light and the more you focus on that light, the more it grows. But there are also times when you are the ones who need some light shone upon you, for you are always giving so much of yourselves to the world around you.
Be sure to spend some quiet time alone with your angels, for they can help you learn self healing. You are meant to be leaders Earth Angels so confidently accept your role and your mission. Take a more playful approach to life, and expect that the changes are bringing you to a better way. This is a successful time for your soul's growth and expansion so see this a sign to the ending of a difficult time.
Here is a beautiful song Mike sent me when I was doing my Radio Show that I was reminded of after the sessions. It is called "Angels Unaware" I love the song, the layers of messages in it, and Mike's amazing voice. Enjoy it, like it, and share it to help him grow his light too.
Your Angel Guidance, especially for the weary Angels Unaware…is to realize you are a human angel and we need you to shine your light…especially in the dim and dark places…