Yes, Mercury is once again in Retrograde, but did you feel this one kind of sneak in? I think mercury retrograde kind of gets a bad rap. People usually groan when they hear this planet is doing it's usual shift a few times a year. Mercury retro has been known to cause issues, but lets learn to use this energy to our advantage.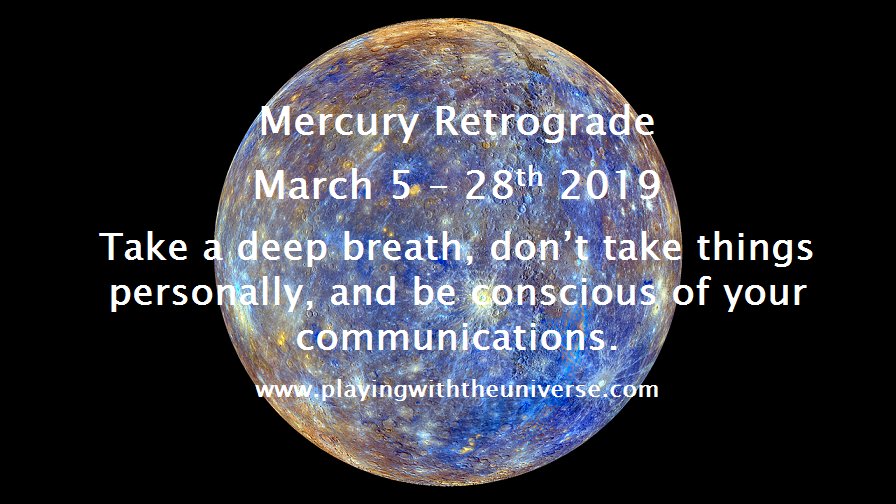 Mercury is going to go retrograde, there is nothing we can do about it. Mercury is a planetary force that rules communication, travel, technology and contracts. Approximate 3 times a year this planet appears to spin backwards and when that happens it often disrupts things on the earth plane. This phase goes from March 5th to March 28th and has days for its waxing and waning. Might as well get prepared and embrace the changes in brings your way.
Begin to see this energy as one that brings about change, for you will certainly see what isn't working during a mercury retro. When you take the time to look deeper, a perfect activity to get you through this, it helps you to develop a deeper knowing.
This mercury retro is in Pisces, so expect things to be more emotional than usual. Be cautious and conscious of your communications when it comes to matters of the heart. Focus on your feelings. Put your energy into your emotional connections, your imagination, and being more compassionate. Anxiety, difficulty expressing yourself, and setting unclear boundaries with others can be the biggest issues you face during this phase, so take your time so miscommunications don't happen. And should they happen anyway, which often happens when Mercury spins backwards, don't take it personally!
Use this time to go over things. Activities that start with a 'RE' and always good.
Recycle and clear out your closets. Get rid of stuff you don't use. It might just be a good way to help others or make some extra cash.
Re-think things before you act, especially when it is big, life altering stuff.
Review – look at your projects and see what isn't working. Review your life and the decisions you have made. (here is an article on Doing a Life Review) Let go of what isn't working.
Re-evaluate – before you act, think. Commit to the goals that are important to you. Readjust your priorities.
Reschedule – Plans change. Be prepared for people to be late, for you to be late, and give yourself extra time to get places.
Reconnect – Take time out to reconnect with old friends, family, and loved ones. Slow down and smell the roses and reconnect with yourself.
Repair – Repair any damage to your relationships. This one is especially important while we are in the emotional influence of Mercury.
Your Angel Guidance is to slow down, dot you i's and cross your t's and let go of what is no longer working while mercury is in Retrograde:
Take the time to review what matters most to you and make sure you tie up any loose ends.
Love and blessings, Sharon and the Angels
A great gift is to get Sharon's book, Angel Guidance, Messages of love and Healing or get the kindle and begin reading a page today!
Like what you read, Buy Sharon a cup of Coffee