Transformation symbols, visions, and signs are all around! These signal times of great change and that is exactly what most of you have been experiencing in big ways.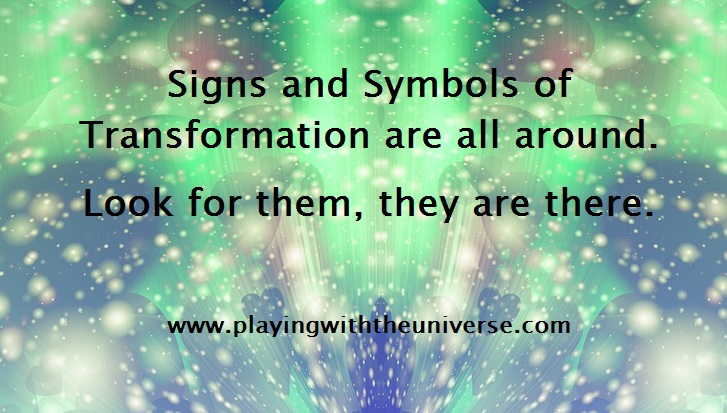 There has been a lot of changes going on and the angels say to expect more to come your way. We are in a time of great shifts and these are felt within as well as all around you. They wish us to remember to let go of the old. Don't hang on to old thoughts and feelings. These don't serve you any purpose except holding you back. Seek some creative solutions as they are there. This is a time of purification, of finding the magic, and becoming the masters of thought and form.
Take the time to learn the messages from Spirit. Learn to trust yourself, your own thoughts and feelings. Balance is an important key. Learn to hone your skills. Learn to understand your magic. These are the stepping stones to the change you have been waiting for. Be courageous. Take the risk. Take the steps, and trust in the power of your infinite spirit to guide the way. You are getting there faster than you think.
Deciphering the world of signs and symbols can sometimes be a challenge but you know they are there. I am often asked by readers why they don't get signs and messages from their angels and loved ones on the other side. Usually they are all around, it is just that we either expect them in a certain way, dismiss them as wishful thinking or mere coincidences.
Symbols of transformation, magic, and illusion are fire, dragonflies, butterflies, and amethyst. If there is an abundance of any of these images, then it is a sign for me that change is imminent. These transformation symbols can show what stage the client is at or what is coming. These types of symbols are even more prevalent with those who have beings from the elemental kingdom in their personal council of light.
Your Angel Guidance is to become more aware of the visions and transformation symbols being offered to you.
Are there any signs or symbols you have been seeing lately? What where you thinking about when you noticed the sign? These are some of the questions you can ask yourself as you learn to interpenetrate and recognise the signs your angels offer you.
When you ask your angels for a sign, they do send some your way. If you feel you are getting these, ask them to send them in a simpler way.
Love and blessings, Sharon and the Angels