You uplift the energy and consciousness of others as you begin to see your own divinity. Each one of you has a Spark of Light within you that is part of the Creator's Light. You are born to find that spark and shine your light. To use your light to make the world a better place. Find that spark and begin to ignite it today.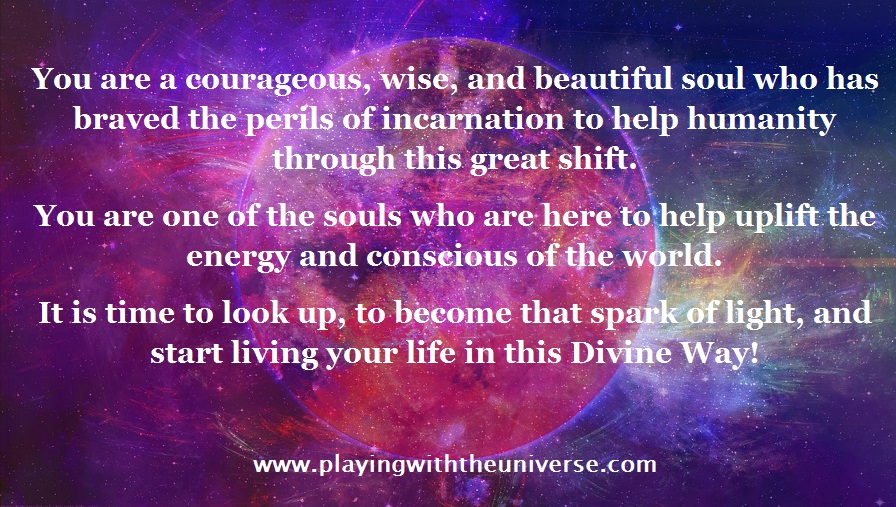 The angels say one of the best ways to find that spark is to decide that starting today you are going to Look UP! Lift your eyes off the ground and start looking up to the sky. What you see shapes your outlook, and your outlook shapes your day, and how you approach your day shapes your world. When you begin to look for and expect positive things, positive things will start to happen. The world needs you to shining your light in this Divine Way.
If you find you have been looking down a lot lately, it could be that things have eroded your self worth. It doesn't really matter what brought you to feeling this way, what is important is that you see it and want to change it. Your perception of you, of your world can be your greatest hurdle, or your best support. You must decide. If it has been another person or situation that has made you feel this way, then it is time to look at it and put into perspective. First, don't give your power away. It isn't always easy, but no one said it always would be.
The Universe knows you and sees you as a Divine spark of the All that Is. Embrace this part of yourself. Begin looking for ways that empower you. These are moments when you are acting from that spark. You are a little spark of the Divine, incarnate. There is nothing more your guides and angels want more than to see you step up and be who you are. Start looking at the good in you. See yourself as your angels see you. You are a brilliant Light of Divine Source. Remember who you Are.
You are a courageous, wise, and beautiful soul who has braved the perils of incarnation to help humanity through this great shift. You are one of the souls who are here to help uplift the energy and conscious of the world. It is time to look up, to become that spark of light, and start living your life in this Divine Way!
Your Angel Guidance is to Ignite your Spark of Light. This is your Divinity and it is time to dance with the Divine.
Your connection to Spirit is much stronger than you think. You are a living, breathing channel of the Divine. Let the energy of Love move freely through you and in all that you do. This energy can flow through your words, through your thoughts, and though your feelings. Become a conduit of higher vibrating energies and wisdom. Become the Divine!
You are reminded that you are a very special soul with an important role to play. It is time to ignite your Light. It is time to see your Divinity so that you begin to ignite that light in others and they too start to see their own Divinity…and so on…and so on…and the world shifts to a higher vibrating world.
Love and blessings, Sharon and the Angels