Your angels are fantastic at helping you through transformation and change. One things for certain and that is that things don't remain the same for long. That is how it should be, so if you have a problem with change, its time to change that thought now!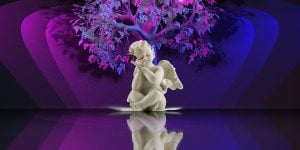 To help with transformation I like to call upon Archangel Zadkiel and the angels of the Violet Flame. They also work with ascended master St. Germain who was a master alchemist. Transformation is the alchemy of your soul. Call 3 times upon the angels of the violet flame and they will help you with the transformation of any area of your life.
Change is part of what you came here to muddle through. It isn't always easy and it isn't always fun. It is important to keep a positive outlook and learning to work with the angelic realm is one of the best ways I know how to help you with this. I know I wouldn't be here today doing what I am doing if it wasn't for the support I feel manifesting in all aspects of my life through the angels.
Your Angel Guidance is to embrace the process of transformation.
Pick up a piece of amethyst crystal to help you connect with Archangel Zadkiel and the Angels of the Violet Flame. See if you can find a purple candle. For coloured candles I will use the dollar store in a pinch or better yet your favourite candle seller like partylite so you know there isn't lead in them. The more pure your product, the higher it's vibration, the better to help you produce higher vibrating results.
www.playingwiththeuniverse.com
A great way to you through the transformations of this great shift is reading a page from Angel Guidance every day. You can get Sharon's wonderful book at Angel Guidance, Messages of Love and Healing or get a kindle and start working with your angels today !