If Innovative Thinking is your game, then Archangel Jophiel is your name! The one to call upon that is! Allow the Innovative Ray this wonderful Archangel overlight you and watch your creativity soar.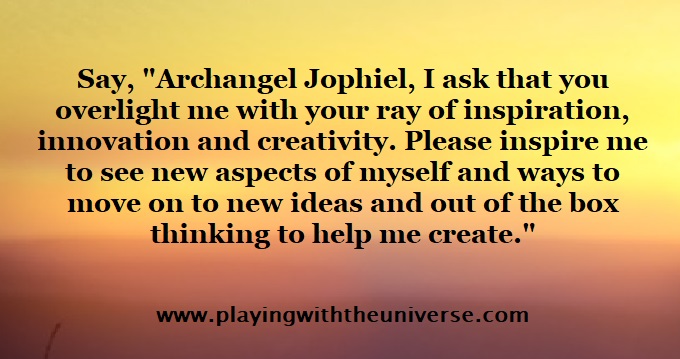 When you make the decision to invite an archangel into your life, things will change. If you need to be inspired then call on Archangel Jophiel to help you out. Say, "Archangel Jophiel, I ask that you overlight me with your ray of inspiration, innovation and creativity. Please inspire me to see new aspects of myself and ways to move on to new ideas and out of the box thinking to help me create."
When you need to clear your thoughts, fuel your brain, and make empowered decisions, let Archangel Jophiel pave the way and show the signs that will help you. Ask in meditation and then pay attention to your thoughts and feelings.
As you do this, it will awaken your creative talents and abilities. The helps to then strengthen your manifestation abilities. It helps you be open to receiving affection, creating deeper bonds and your abilities to give affection.
Your Angel Guidance is to ask Archangel Jophiel to Overlight you.
Connect with Archangel Jophiel and ask her to help you to beautify your thoughts and your outlook, awaken your creative talents, and increase your strength.
Pick 5 thinks that are fun and creative that you would like to do and then do them. They will open you up and help inspire you to new heights. With Archangel Jophiel at your side, you will have some fun and some amazing experiences, so open yourself up to this powerful light today and have some fun!
www.playingwiththeuniverse.com
A great way to open yourself up to the Angels is reading a page from Angel Guidance every day. You can get Sharon's wonderful book at Angel Guidance, Messages of Love and Healin

g

or get a kindle and
start working with your angels today !