Creating a Meditation Space helps you create an environment of love, healing and peace. Meditation is one of the most amazing tools that is out there to help you on your path. Create this sacred space for yourself, you are worth it and it is totally worth your time and effort. It will help to change your life in ways you haven't even imagined for yourself yet.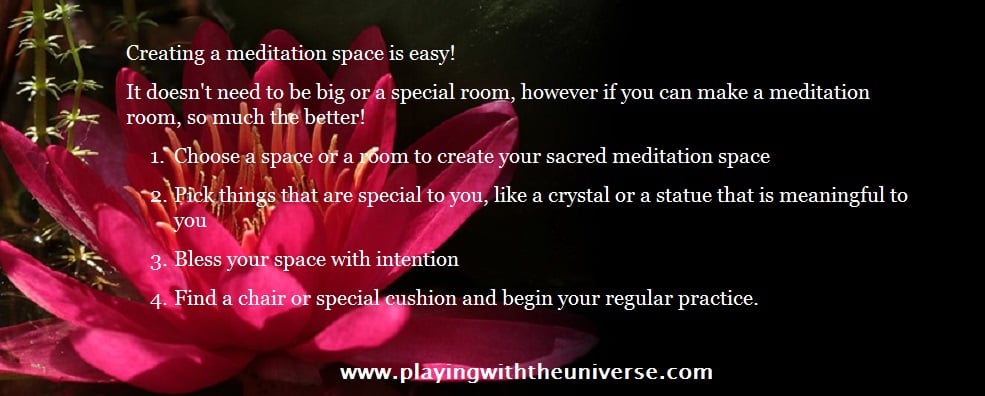 Having a room, a space, a garden, a tree house, or somewhere special for a meditation practice is the best way to ensure you have a regular meditation practice. This is invaluable in the process of spiritual growth. Meditation is the answering. it is a simple life changing practice. Creating a sacred space to meditate in helps get yourself ready for this new practice and helps you to stay at it. This will also help to deepen your experience. Each one will lead you to another and something more grand.
Your Angel Guidance is to create a sacred meditation space somewhere for yourself!
Creating a meditation space is easy! It doesn't need to be big or a special room, however if you can make a meditation room, so much the better!
Choose a space or a room to create your sacred meditation space
Pick things that are special to you, like a crystal or a statue that is meaningful to you
Bless your space with intention
Find a chair or special cushion and begin your regular practice.
Your space should be comfortable, peaceful, and inviting. It is only useful if you use it!
www.playingwiththeuniverse.com
A wonderful way to help with meditation is through Sharon's book, Angel Guidance. Get a copy of this fantastic book at Angel Guidance, Messages of Love and Healing and let the healing begin!