At some point we all begin to look at ourselves and ask if there is something more than just our physical/material world and thus the quest for a more spiritual life begins! Everything in life is spiritual. It is usually a magical moment of awe that awakens this deeper feeling.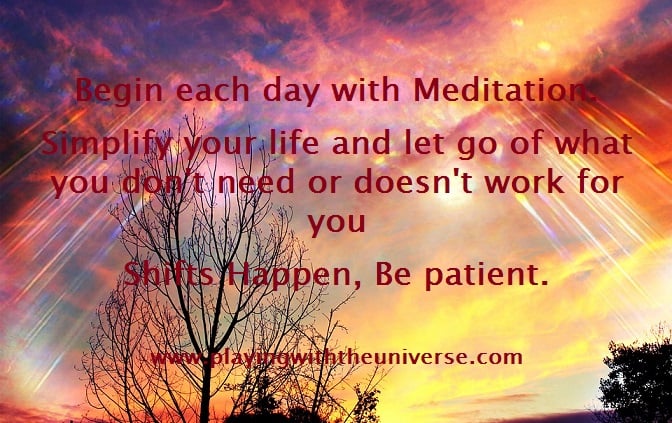 Spirituality can be expressed in many different ways. There are many paths up the mountain, what is most important is that you begin one that works for you. For some it is devotion to a religious path. For others it is a connection through their spiritual side through self expression and connection with nature, through yoga, and other creative expressions.
There is no right or wrong way to approach living a more spiritual life. What is most important is that you recognize that it is the journey that is the prize. It is the path and what it shows you and your growth and expansion to finding a better way that really matters. Take time to explore yourself and your world and what works for you. That is the gift of living a more spiritual life.
Here are some simple steps that can help you lead a more spiritual life:
Begin each day with meditation. There is no doubt that this one will make a difference. Try it for 21 straight days. If you miss a day, begin again at day one. This simple practice can be sitting outside in nature under a tree. Listening to a directed, guided meditation. Or, you can choose to just be in the moment and have no other awareness. What is most important is to take the time to do it.
Simplify your life and let go of what you don't need or doesn't work for you. Be patient with yourself. We are all works in progress and searching for a better way. Clear away thing in your physical world. Clear away thoughts and feelings that are holding you back. Look for ways to live life more simply and focus on what really matters to you.
Shifts Happen. Life will change when you let go of all that stuff and begin to live in the now. Again, be patient with yourself and your unfolding.
Your Angel Guidance is to begin living a more spiritual life!
How can you begin to lead a more spiritual life? It is simple. Begin to simplify your life and go from there. Make sure you take time to connect with the world and be patient with the process. It doesn't need to be complicated and it should feel good. Trust yourself and the process, more will unfold as you are ready.
www.playingwiththeuniverse.com
A great way to help you get to know start or end each day is reading a page from Angel Guidance. Get Sharon's fantastic book at Angel Guidance, Messages of Love and Healing and start working with your angels every day!