Achieving balance is sometimes a challenge and yet also very necessary. You are here – a spirit being – having a physical experience. Make sure you have enough of all your activities so you can be healthy and whole, living a better life.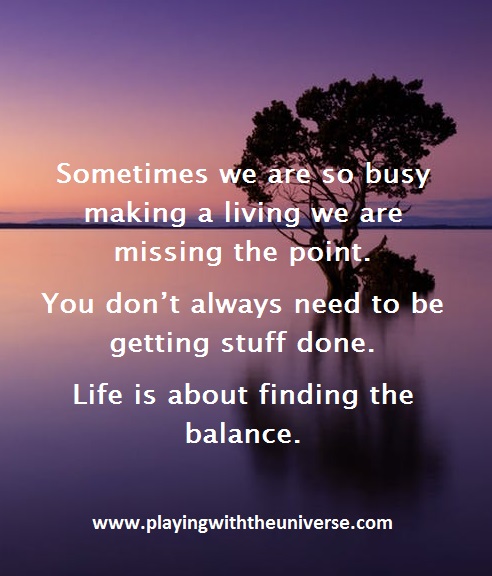 You don't always need to be getting stuff done. Sometimes we are so busy making a living we are missing the point. Sometimes it is perfectly okay just to do nothing. Take a break, put your feet up with a good book or a cup and coffee or just do nothing. If we are not being productive we think we are wasting time. It is time to change that mindset. Doing things for yourself is about self first. Self first is not the same as selfish. It is about realizing that you need time to unwind, take a break and just be, regularly.
At other times you just know that there is no time like the present to get things done. There is never a more perfect time than now for action. The time will never be just right, so act now. While I am one to believe that elves and angels can help us, they like to remind me that it is us who are having a physical experience and so we have to do the journey. No one can do our journey for us, we must take the action and take the steps, they can help with the magic.
While these thoughts might seem contradictory, they actually are necessary to work together. That is Balance. Remember, there are so many amazing things you have done yet or have yet to experience. Remember it is important to take time out and enjoy life as you are getting things done.
Your Angel Guidance is to look for ways to balance your emotional and mental world with your physical:
Are you taking regular time outs from your busy schedule to just be? Take an inventory of your weekly schedule and make sure that you are including activities you enjoy as well as space and time to just do nothing.
Tons of love, Sharon and the angels xoxox
www.playingwiththeuniverse.com
Check out Sharon's book, Angel Guidance, Messages of Love and Healing
A beautiful expanded collection of 365 messages inspired by the daily Angel Wisdom that Sharon Taphorn shares with thousands of readers around the world. Each message contains thought provoking conversations with the angels and assists us on our journey called the human experience.
Check out Sharon's daily Angel Guidance Messages
Read more at http://www.beliefnet.com/columnists/angelguidance