I was recently asked this by one of my readers, "What do I do when life gets too difficult?" Not an easy question as we each have our own level of tolerance to the stresses in life and lets face it, some days are better than others. When I was recovering a few years ago from a severe injury, there were days that ever so difficult to get through and sometimes I just wanted to give up. Things that pulled me through was making myself take small steps at a time and reading and re-reading the positive messages from the angels.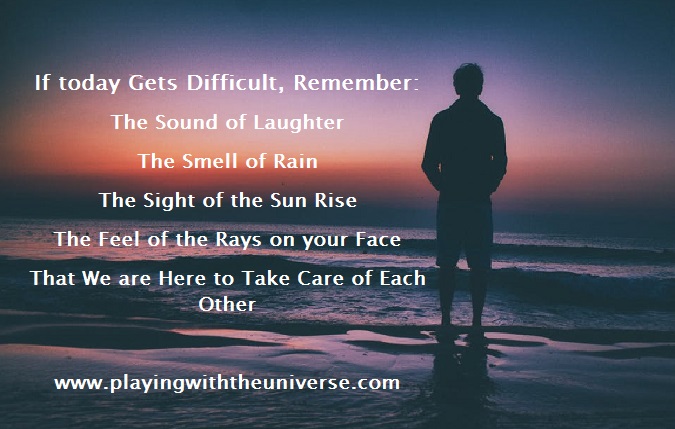 Your angel guidance for today is IF today gets difficult, remember…
The sound of Laughter.
The smell of the Rain.
The sight of the Sun Rise.
The feel of the Rays on your Face.
Always remember that we are here to take care of Each other.
My book filled with angel messages of love helped me a great deal as well. When I needed to get myself into a better mindset, I would read it and read it. Then I would read it again until my mindset shifted. The main thing to remember is that living, and healing are a process and you will have bad days, but you will also have good days, so hang on to the good ones and remember.
Tons of love, Sharon and the angels xoxox
www.playingwiththeuniverse.com
Check out Sharon's daily Angel Guidance Messages
Read more at http://www.beliefnet.com/columnists/angelguidance