Ask your angels to shower you with an attitude of abundance to help you create.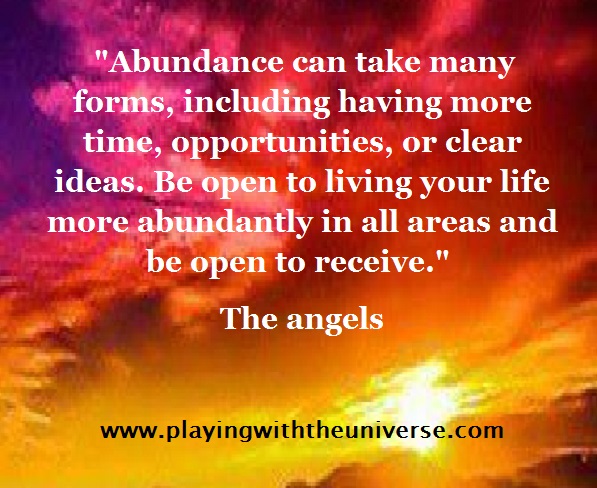 Your angels want you to live an abundant life. This means living each moment to its fullest, regardless what outward appearances may be. To heal your financial situation, first give your worries concerning money to your angels. Your angels will guide you and show you how to create and accept abundance in your life. "As we work together, your financial situation will heal as fast as you allow. Open your arms, open your heart, and open your mind to a greater flow of abundance."
This message is a sign that your prayers about lack in some area of your life or those about finances have been heard and are being answered. The more you can listen to and follow your gut feelings right now, the quicker you will see improvements in your financial situation, your work or love life, and/or the experiences of your personal life. Hold thoughts of gratitude, joy, and the infinite power of the universe to supply all of your needs and know that there is enough for everyone and this includes you. Your thoughts and feelings are powerful and it is up to you to choose to use them to your greatest advantage. Take control and take charge.
The coins that you have been finding lately are loving signs from your angels and departed loved ones letting you know that they are there. Hold thoughts that something unexpected and great is about to happen in your life. Give any financial fears or worries to your angels as these are the road blocks that hinder your progress. Follow any guidance you receive, as it could be an answered prayer. Trust in the power of the Infinite and show gratitude for all that you have, all that you are and all that you are becoming.
Your angel guidance is to remember that "Abundance can take many forms, including having more time, opportunities, or clear ideas. Be open to living your life more abundantly in all areas and be open to receive."
Tons of love, Sharon and the angels xox
www.playingwiththeuniverse.com

Read more: http://www.beliefnet.com/columnists/angelguidance