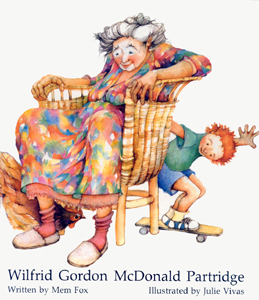 Wilfrid Gordon McDonald Partridge
Author: Fox, Mem
Illustrator: Vivas, Julie
Mem Fox is one of the most prolific children's authors in contemporary times. Her classic Time for Bed and Where is the Green Sheep? have delighted millions of children and parents. With this book, Mem Fox tackles the difficult issue of aging, and the meaning of memory.
With grace, she explores how the word "memory" means to many different elderly people–and how a child interprets the world of a grandparent. I recommend this book for children 3+ who are old enough to explore the concepts of age, aging and nostalgia with a parent.